This store requires javascript to be enabled for some features to work correctly.
--- About Shiki Futon ---
ALL MADE BY HAND
why is our shiki futon so comfortable?
We place great emphasis on and take extreme care during the stuffing process because it determines the comfort level as well as the longevity of the finished products. Our craftsmen work meticulously to ensure that the futon can retain and maintain its shape and fluffiness with daily use. To make the futons, we use many layers of cotton filling, piling layer after layer to the center of the futon repeatedly. The watoji stitch is then used to secure the cotton filling in the place which also acts as decoration. Though the process is tedious, our craftsmen at Takaokaya, desire to create the most comfortable futons, so that our users can enjoy true relaxation for a good night's rest. Every night, you will be smiling as you feel your body unwinding and melting away the stresses of the day when you lay down on your Takaokaya futon for the best sleep ever.
To stuff the futon, our craftsmen have to arrange large sheets of cotton before tearing them manually into the shape and size of the futon.
why so good?
secrets of 100% cotton filling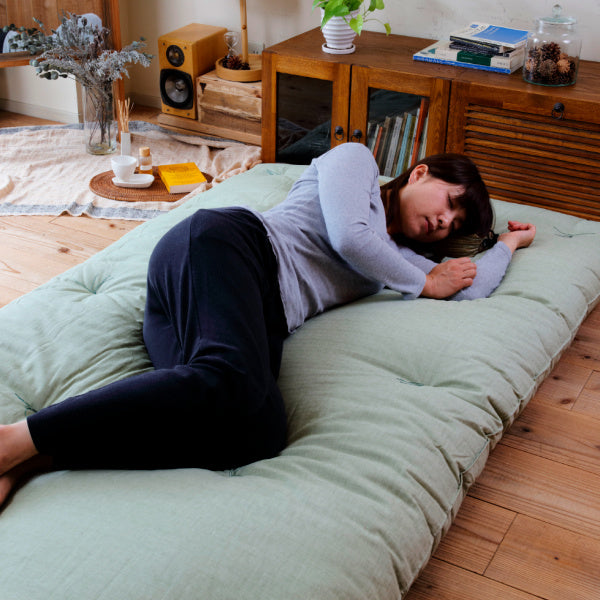 SECRET 1
the comfort of the cotton filling
Handcrafted using traditional techniques passed down for generations and modern innovations, Takaokaya's futons are the perfect combination of pleasant firmness for spine support, and pillowy cushioning to cradle your body to enable better sleep so you can wake up feeling refreshed the next day. Shiki futon can be used on the floor or if you are not used to sleeping on the floor, you can put it on top of your mattress for added comfort and relaxation.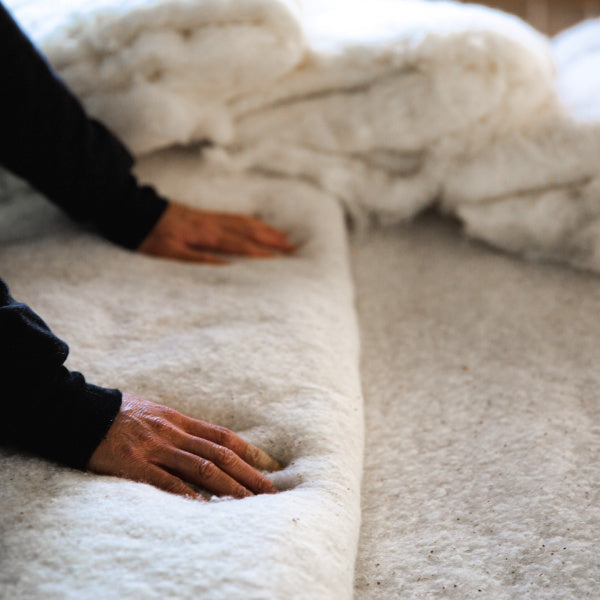 SECRET 2
excellent moisture absorption, heat retention and resilience
As cotton fibers are hollow and have a natural twist structure, our futons have excellent moisture absorption in the summer heat and cozy in the winter chill, making them suitable for all seasons. Our futons also have good resilience due to our choice selection of cotton. Sunning your futon regularly not only helps to fluff up your futon but also disinfect it. The cotton filling we used for stuffing Shiki Futon is specially selected so that our futons are plushy and yet firm to provide ample support for a healthy spine.
easy set up
pocket design
Takaokaya Shiki Futon Mattress Cover is specially designed with pockets on both ends to allow for the Shiki Futon to be slipped in and out without much hassle. The small openings at the side of the pockets allow you to adjust your Shiki Futon Mattress for a perfect fit. To clean, simply put the cover into the washing machine.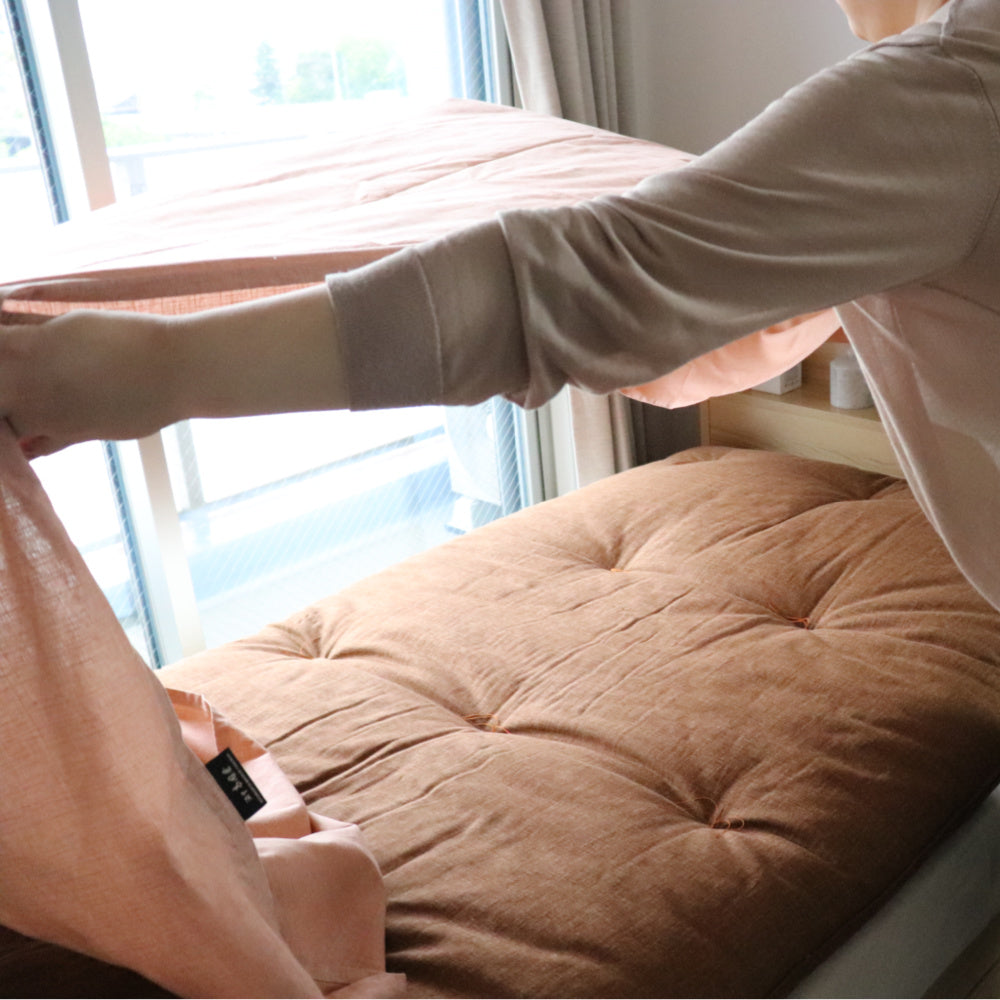 Step 1

Spread cover on the futon.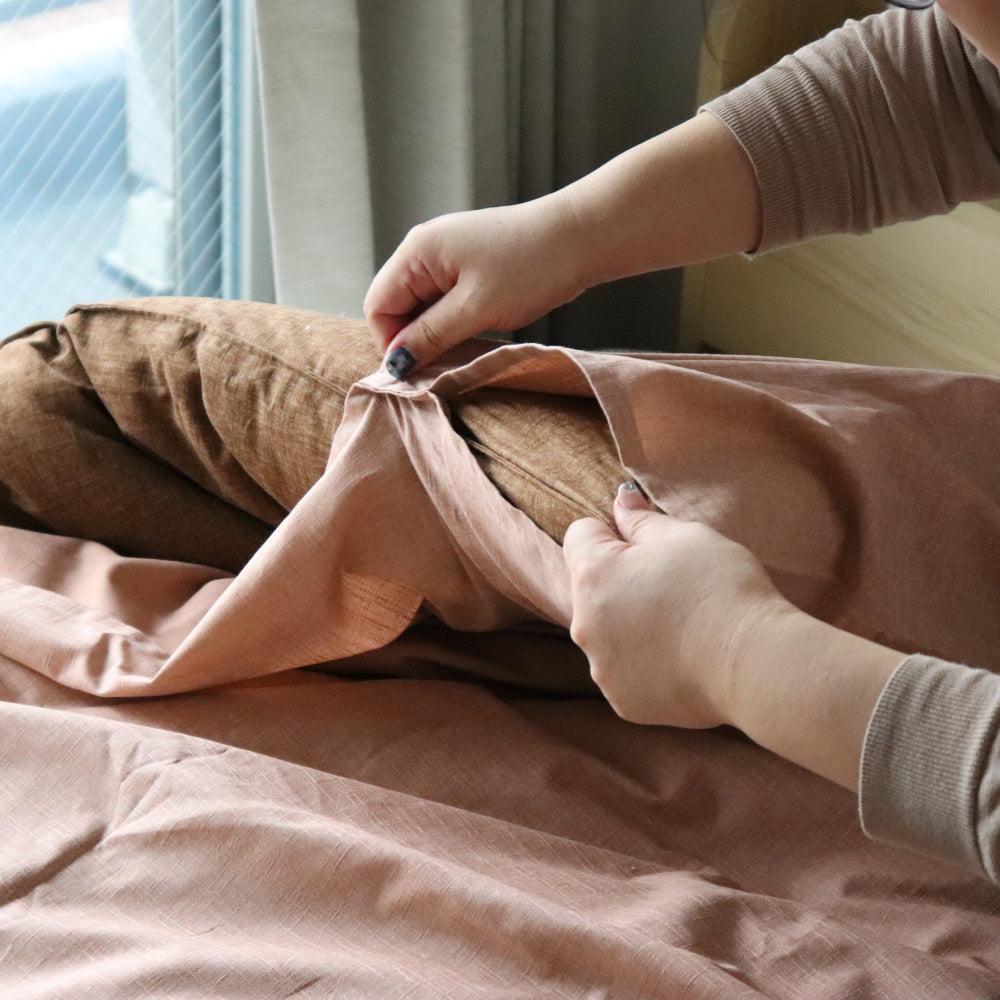 Step 2

Slip the corners of futon into
the cover's pockets. Adjust futon
for the perfect fit through the holes on the side of the pocket. Elastic bands are added for the bigger-sized covers to provide support for the width.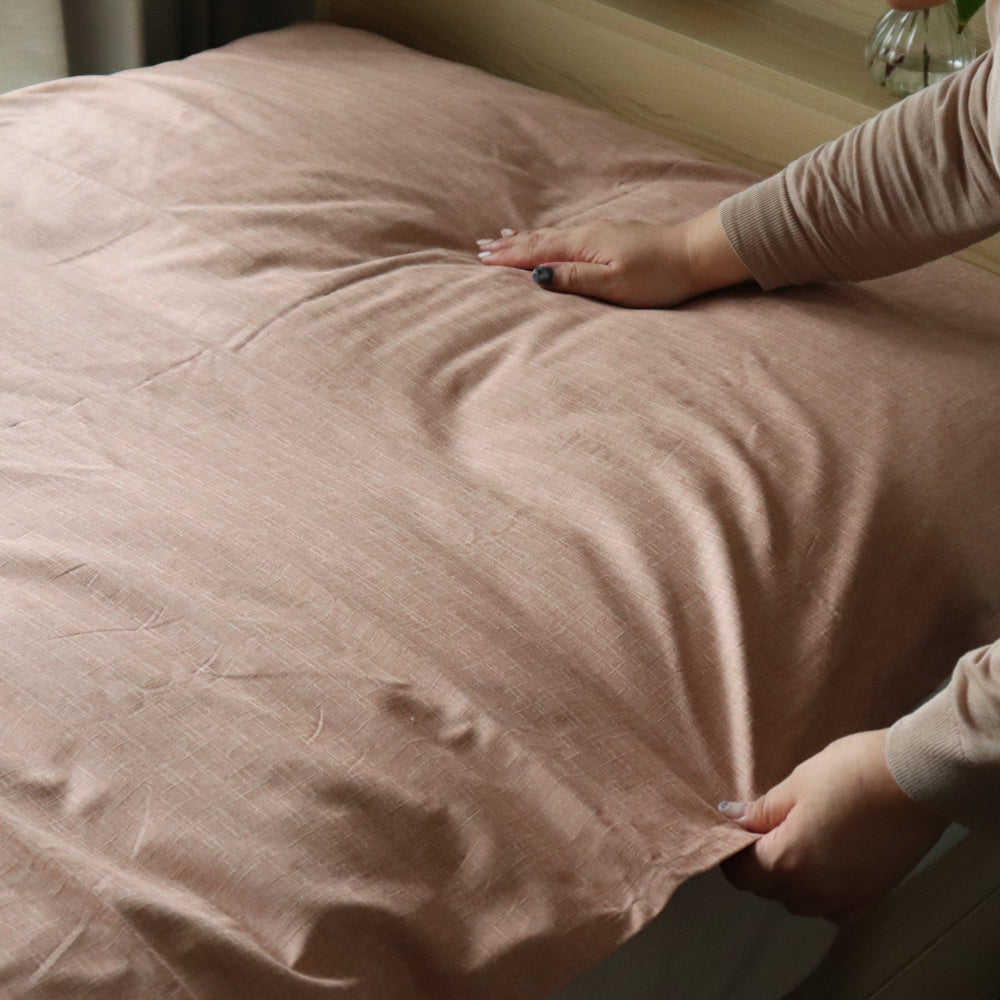 Step 3

Smooth the cover over the futon and it's ready!
FAQ for Shiki Futon
Have questions about Takaokaya Shiki Futon? How thick is a Shiki Futon? Can I order a custom-size Shiki Futon? Find answers to these questions and more here.
Convenient and Comfortable
I've been using my futon now for over a week and it has been some of the best sleep I've gotten for a long time. I'm a college student living in a small apartment, so getting a bed and moving it around is pretty difficult, and the shiki futon is the perfect solution to my problems! I look forward to having it around for a long time.
Knowing that using our futon gives you some of the best sleep in a long time, is one of the best compliments we can receive as a futon maker.
Thank you for making our day Cyrus-san!
We wish you many nights of restful sleep with your Takaokaya Shiki Futon!
Valery
Team Takaokaya
Beyond Lovely
The shiki futon mattress and cover is so beautiful. Very well made and very comfortable, it's like resting on a cloud. I highly recommend. Wonderful and helpful staff too! Thank you.
Thank you Karen-san for the exceptionally kind review. We are happy that you are loving your Shiki Futon mattress and we hope that it will provide you with many more nights of restful and comfortable sleep.
We hope to be able to serve you again!
Happy Kutsurogi,
Valery
Team Takaokaya
Absolutely gorgeous
It was worth the wait! Everything I ordered looked great and well made! I definitely will order again. Thank you for the wonderful note! 😊
Thank you for your patience FujisMom... we hope that you are enjoying resting on your Shiki Futon.
Wishing you sweet dreams nightly,
Valery
Team Takaokaya
Shiki Futon Mattress and Cover Set
Thank you Clarence-san for the five star rating! We hope you are enjoying your Shiki Futon!
Valery
Team Takaokaya
Excellent quality and fast delivery
My wife and I ordered a double size shikibuton and futon cover three weeks ago. We were expecting it to take a bit longer for everything to arrive, but were pleasantly surprised when our packages were delivered this week. Nanako-san is a very informative person who is quite easy to work with. She gave us different sizing options beyond what the website offers, and even helped us to track down and price out a foldable tatami mat for our futon.
All in all, the experience was great. We will definitely buy from Takaokaya again!
Hello Josh-san!
We are so happy to know that you had a great experience with us and that the shikifuton and cover have reached you safely.
We really hope that you and your wife will enjoy and have the best sleep with our shikifuton.
Happy Kutsurogi!
Nanako
Team Takaokaya
We ship internationally, but if you can't find your country at checkout,

CLICK HERE

to contact us for a personalized quotation!