This store requires javascript to be enabled for some features to work correctly.
Get the information you need quickly and efficiently.
FAQ
Here's a list of answers to commonly asked questions that we receive from our customers all over the world. If you cannot find an answer to any of your questions, please feel free to contact us.
Where are your products made?

All Takaokaya's products are proudly and meticulously handcrafted using century-old techniques in Kyoto, Japan, to preserve and continue the rich heritage of traditional craftsmanship of the region.
What kind of products do you sell?

We specialize in handcrafted traditional Japanese relaxation and sleep products – fondly known as Kangu (寛具), which means relaxing tools. We offer a wide range of Kangu – futon mattresses, futon comforters, zabutons, meditation pillows and cushions etc., to cater to all your relaxing needs.
How long does it take for orders to be fulfilled?

Depending on the quantity of the order, as well as the schedule of our workshop, we usually take 14 - 21 working days to complete the orders after we confirmed payment is made. This timeline does not include shipping the order out. Should there be any delays, we will also update you promptly and accordingly.

If you have a specific date on when you would like the orders to be ready, please contact us for further communication.
What type of fabrics do you use in making your futons and cushions?

We offer a wide variety of fabrics in different prints, patterns and colors made from cotton to linen
to Japanese silk and much more.

If you are unable to find a particular fabric in our current collection, you can contact us to let us know what you are looking for and we will source it for you if it's suitable to be used for making your ideal Kangu.
What kind of fillings do you use in stuffing your futons and cushions?

Our futons and zabutons are filled with 100% pure cotton. For our senbei zabutons and ojami cushions, we used a mixed cotton filling (70% Cotton, and 30% Polyester).

We offer 3 different types of fillings for our pillows – buckwheat, hard piping and soft piping.

If you are looking for alternative fillings, please contact us to let us know what you are looking for and we will source it for you if it's suitable to be used for making your ideal Kangu.
How do I choose the right futon or cushion for my needs?

We offer a variety of options to suit different preferences. Our product descriptions provide detailed information about the materials used as well as the sizes.

If you require further assistance in making decisions, do feel free to reach out to us and we are more than happy to advise and recommend you according to your preferences.
Do you do custom orders?

Yes! In fact, all our products are handcrafted and made-to-order, giving you endless possibilities in creating your ideal Kangu.

Feel free to speak to us if you have a special product that you have in mind, and we can co-create together.
Is there any extra charge for custom orders?

We do not charge extra for custom orders. The price of the product would vary depending on the fabric, size or required effort to make the requested item.
What is your return or exchange policy?

As all of our products are made-to-order, we do not accept any form of cancellations, returns, exchanges and/or refunds once the order is confirmed and processed.

Please refer to our terms and conditions for more details.
>>> Link
Can I visit your store in Kyoto?

Most definitely! We warmly welcome you to our store in Kyoto to have a unique Takaokaya Kutsurogi Experience. Get to relax on our range of Kangu and see our artisanal craftsmen and craftswomen 'live' in action at work.

Follow us on Instagram (@takaokaya_en) to get the latest opening hours or check our website for store hours and location details.
Address:  242 Kintoyokocho, Shimokyo-ku, Kyoto, JAPAN >>>Map
Tel: +81 75-341-2251
Email: intl@takaoka-kyoto.jp.
Do you sell tatami?

At the moment, we are not selling tatami but we can help interested customers to procure tatami from our supplier.

For further inquiries about tatami, please contact us.
How long does it take for my orders to reach me?

The estimated delivery time for international shipments depends on the destination country and the shipper selected.

It can range from a few days to several weeks (not including unforeseen circumstances). Please refer to our shipping information or contact our customer support for more precise delivery estimates.

*Please note: Due to the on- going reduction in flights to various countries and territories, there may be delays in international shipping to affected countries.
Do you offer international shipping and to which countries?

Yes, we offer international shipping. If you are unable to find your country at the checkout, please contact our customer support to verify if we ship to your specific location.
Do you offer local shipping within Japan?

Yes, we ship locally as well. We mainly use Sagawa Transportation. Alternative shippers include Yamato and Japan Post.
What shipping carriers do you use for international shipments?

We use EMS by Japan Post as our default shipping provider. We can also use other international shipping providers like DHL and UPS.

Please contact us for special arrangement
Do you ship by sea?

No and we do not recommend shipping by sea because our products are prone to be affected by humidity.
What are the shipping costs for international orders?

Shipping costs for international orders vary depending on the destination, products, package weight, and shipping method chosen. The exact shipping cost will be calculated during the checkout process.
Can I track my international order?

Yes, we provide tracking information for all orders. Once your order is shipped, we will send you the shipping information with tracking number via email so that you can monitor the progress of your package online.
Are there any additional customs or import duties that I need to be aware of?

Customs or import duties may apply to international orders depending on your country's regulations.

Any additional charges for customs clearance will have to be paid by the customer and Takaokaya will not be able to advise the value of these charges.

We recommend checking with your local customs office for more information on potential fees or taxes.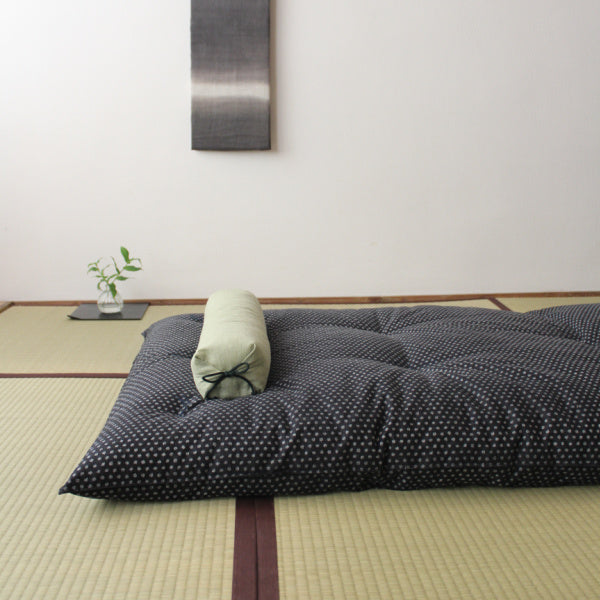 FAQ
Have questions about Shiki futon?
How thick is Takaokaya Shiki Futon? Can I order a custom-size Shiki Futon? Find answers to these questions and more here.
Get Your Answers Now!
How can we help you?
Can't find what you are looking for, please contact us.