This store requires javascript to be enabled for some features to work correctly.
ALL MADE BY HAND
why is our shiki futon so comfortable?
We place great emphasis on and take extreme care during the stuffing process because it determines the comfort level as well as the longevity of the finished products. Our craftsmen work meticulously to ensure that the futon can retain and maintain its shape and fluffiness with daily use. To make the futons, we use many layers of cotton filling, piling layer after layer to the center of the futon repeatedly. The watoji stitch is then used to secure the cotton filling in place which also acts as decorations. Though the process is tedious, our craftsmen at Takaokaya, desire to create the most comfortable futons, so that our users can enjoy true relaxation for a good night's rest. Every night, you will be smiling as you feel your body unwinding and melting away the stresses of the day when you lay down on your Takaokaya futon for the best sleep ever.
To stuff the futon, our craftsmen have to arrange large sheets of cotton before tearing them manually into the shape and size of the futon.
Why so good?
Secrets of 100% cotton filling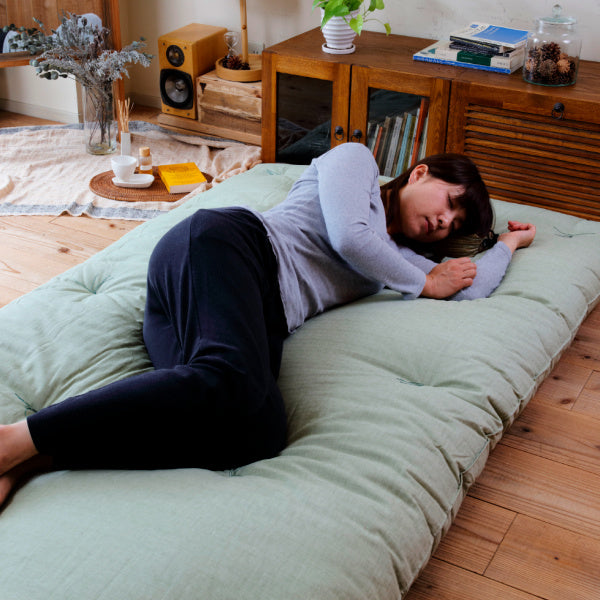 SECRET 1
the comfort of the cotton filling
Handcrafted using traditional techniques passed down for generations and modern innovations, Takaokaya's futons are the perfect combination of pleasant firmness for spine support, and pillowy cushioning to cradle your body to enable better sleep so you can wake up feeling refreshed the next day. Shiki futon can be used on the floor or if you are not used to sleeping on the floor, you can put it on top of your mattress for added comfort and relaxation.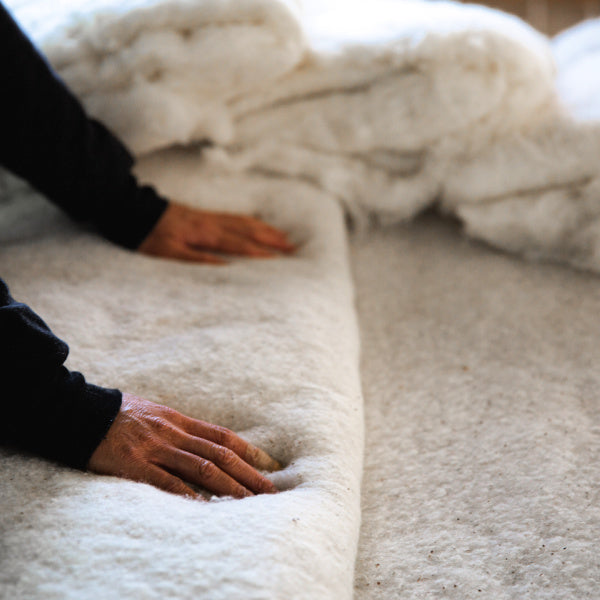 SECRET 2
excellent moisture absorption, heat retention and resilience
As cotton fibers are hollow and have a natural twist structure, our futons have excellent moisture absorption in the summer heat and cozy in the winter chill, making them suitable for all seasons. Our futons also have good resilience due to our choice selection of cotton. Sunning your futon regularly not only helps to fluff up your futon but also disinfect it. The cotton filling we used for stuffing Shiki Futon is specially selected so that our futons are plushy and yet firm to provide ample support for a healthy spine.
FAQ for Shiki Futon
Have questions about Takaokaya Shiki Futon? How thick is a Shiki Futon? Can I order a custom-size Shiki Futon? Find answers to these questions and more here.
beautifully made
The fabric that I chose turned out beautifully: deep rose, with a slight brownness. Although I bought the futon (double size) for the guest bedroom, I have rested on it. Very comfortable--soft, yet supportive. Wonderful product.
Thank you Ellen-san for leaving us this 5-star review!
It is great to know that you find our Shiki-futon to be beautifully made and that you have enjoyed resting on it.
Wish you and your guest many restful moments with the Shiki-futon,
Valery
Team Takaokaya
Thank you Thomas-san for taking time to rate our product. We hope that you are enjoying your rest with our Shiki futon.
Valery
Team Takaokaya
Excellent!
Best mattress I ever slept on.
Posture feels better.
I sleep very quickly.
When I wake up I feel great and not lazy.
If I can give more stars I would !
Thank you Takaokaya ! We'll done .
Warm Greetings from Kyoto!
Thank you Moustafa-san for the 5* review.
We wish you many pleasant hours of relaxing on your Shiki Futon!
Valery
Team Takaokaya
Customised Shiki Futon
I ordered two futon mattresses in custom sizes for European standards.
They're perfect, and so is my sleep! I love the feeling of softness when I lie on them, it's a delight!
What's more, they were made and shipped so quickly I didn't expect to be able to enjoy them so soon. And with perfect communication all the way!
Dear Sarah-san,
Thank you so much for your kind review and the pretty photo. What a colourful room !
So glad to hear that you enjoy your custom-made Shiki-Futon :)
Cheers to better sleep quality, and hope to hear from you again soon !
Team Takaokaya
Karen
The ordering process was very clear and simple for shipping to the USA. The communication from order to delivery was excellent, and was surprised how quickly I received the product.
Clear to see the quality craftsmanship in the futon mattress I bought.
Hi David-san,
Great to know that the entire experience with us has been an excellent one and that you appreciate our skilled craftsmanship!
Enjoy relaxing with your Shiki Futon!
Nanako
Team Takaokaya
a gift from us
Celebrating 104 years of love & support!

From October 2nd 2023 to November 1st 2023, enjoy ¥1,000 off minimum purchase of ¥30,000. >>> READ MORE

*Subscribe to our mailing list to be the first to know about promotions and new launches!