This store requires javascript to be enabled for some features to work correctly.
a piece of inherited Japanese hospitality
Zabuton cushions are traditional Japanese cushions with nearly 1000 years of history. Originally, zabuton cushion symbolises a person's high status, and were only used by people such as theemperor and members of the imperial court, or most revered of Buddhist monks. Now, zabuton cushions are part of Japanese daily life and are central to Japanese omotenashi culture of hospitality. Our Kyoto zabuton cushions are still handmade using traditional futon techniques but innovated for greater stability and comfort. They are very versatile and can be used in different spaces, such as the modern living room.

Come relax with us and enjoy the moment with our Kyoto Zabuton, crafted masterfully to reflect Kyoto's rich cultural way of life. Use one of our zabuton cushions and you'll never want an ordinary cushion again!
relaxation in different styles
When times change, a piece of inherited Japanese hospitality tradition remains. Today, zabutons are used daily for floor seating to provide comfort and relaxation in modern Japan. Zabutons can be found not only in Japanese households but also in meditation scenes to increase mindfulness.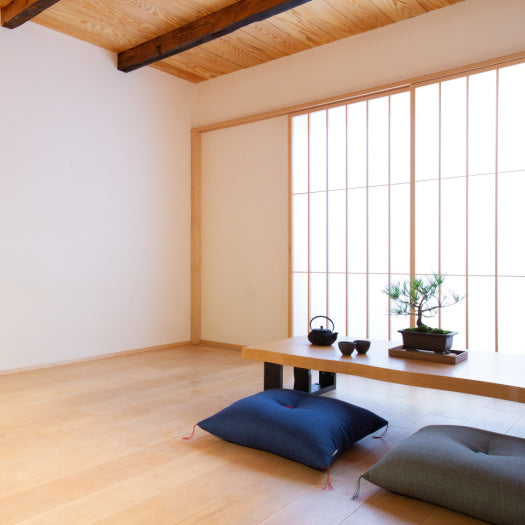 welcoming the guest

Serve the zabuton when guests visit to home as our Omotenashi hospitality.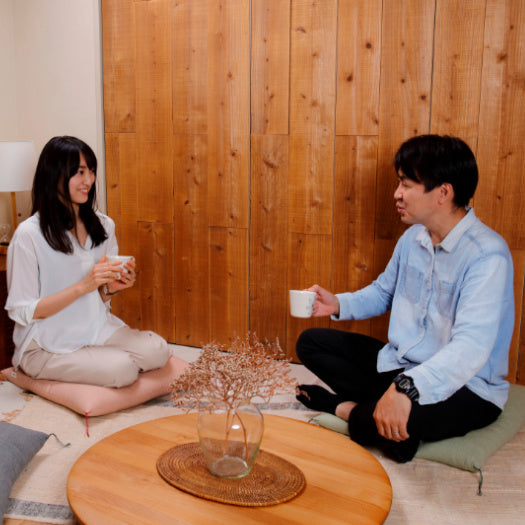 Daily relaxation

Have a seat on the zabuton and spend a nice time to relax.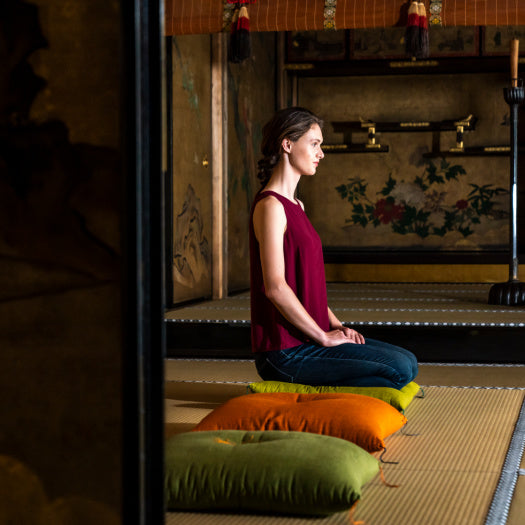 Be mindfulness

Gaining popularity for meditation use to take care of our self.
Why can we relax so well?
The Importance of Our Craftsmen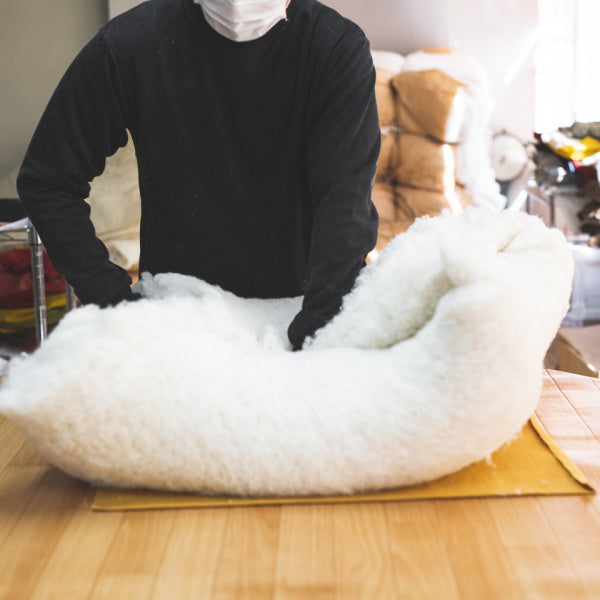 The secret of relaxation
Stuffing by skillful craftsmen
The stuffing stage is one of the most important parts of the production process. It does not only determine the comfort level of the finished products, but it is also what allows the product to keep its integrity even with frequent use. The zabuton has a large amount of filling in the center part where the weight is applied. Our skilled craftsmen are concerned with the longevity of their creations, so they would like to make sure that even in the future, each product is still as comfortable as the day it was made.
The craftsman's experience and care of "thinking about the user and putting inner filling", which cannot be achieved by machine production, create "comfort" and "relaxation".
"Omotenashi": The Spirit of Kyoto hospitality
Three Characteristics of Kyoto Zabuton
"Sampo-toji": Three-pronged stitch

The three-pronged stitch on the top of a zabuton, known as "toji," has the function of keeping the
cotton evenly distributed. Most zabuton use a "toji" in the shape of a cross, but Kyoto zabuton use
the three-pronged stitch shown the picture. The tail of the "Y" shape points to the front of the zabuton for the user's convenience. When you serve the zabuton to your guest, you do not mistake the direction of the zabuton by looking at this stitch.
"Kamaboko-gata": Dome shape

The underside of the zabuton cushion is flat, which ensures the stability of the cushion. However, the top side of the zabuton is filled to create a dome-like shape, which is reminiscent of the shape of a Japanese fishcake called kamaboko. This shape does not only provides fluff, but it also prevents the zabuton cushion from thinning too quickly, even with frequent use. The plump and natural curve shape of the zabuton cushion is an indication of the skill possessed by the maker.
"Sumi-fusa": Tasselled Corners

The corner tassel stitches on a zabuton cushion are called "sumi-fusa". It does not only function as a decoration, but it is also a traditional technique used to make sure that the cotton filling does not come out from the corners of the cushion. In ancient Japan, it is believed that putting tassels on the corners of the cushions prevents evil from possessing the user.
Create with takaokaya's craftsmen
Takaokaya believes that by having customers participate in the manufacturing process, such as selecting materials, we can make our Kutsurogi products with a special feeling that is entirely relaxing. We also believe that the experience of creating together with them will promote relaxation and lead our customers to attach to our products. Those are not able to be provided by ready-made products.
Solid? Japanese? Nordic?
which color or pattern do you like?
Product Description

[Sizes (approx.)] S (50×55 cm), M (55×59 cm), L (59×63 cm), XL (64×68 cm)
[Fabric] 100% Cotton
[Filling] 100% Cotton
[Tassel] 100% Silk
[Filling weight] S: 1.0kg / M:1.2kg / L:1.4kg / XL:1.6kg
Color

This product's page is "kyoto zabuton cushion | japanese pattern". The color can be selected from Japanese Patterns from our cotton collection. Please check colors from our cotton fabric sample. >>>SEE SAMPLE
Zabuton cushion
Great quality, quickly delivered and the personalised thank you card was a nice touch
Thank you Dave for leaving us a 5-star review!
We hope the cushion will bring you endless moments of Kutsurogi at home!
Enjoy!
Valery
Team Takaokaya
京都座布団 (Kyōto Zabuton)
The Zabuton supports my body well when I sit Seiza. Feels super comfortable and is made very well. I love how it turned out.
So glad to know that you are loving the Zabuton we made you Hiruzen-san.
Thank you for the compliments and we hope you will enjoy many moments of relaxation resting on your Zabuton.
Happy Kutsurogi,
Valery
Team Takaokaya