This store requires javascript to be enabled for some features to work correctly.
modern living with a piece of inherited Japanese hospitality
From being a seat adornment that symbolizes a person's royal or high status nearly 1000 years ago, Zabutons are now used daily for floor seating to provide comfort and relaxation in modern Japanese households or used for meditation to increase mindfulness.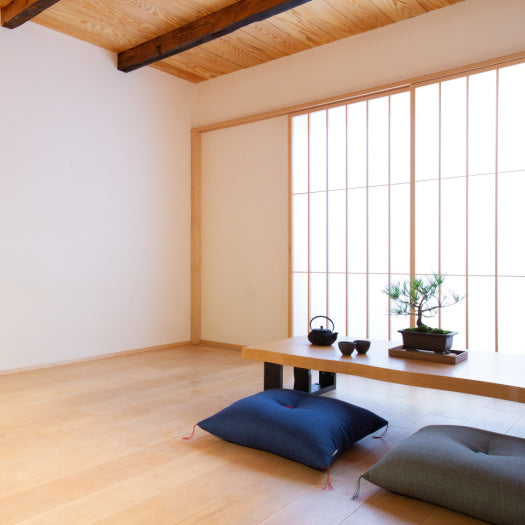 OMOTENASHI HOSPITALITY

Give a warm welcome to guests who visit your home by giving them your best cushions to rest and relax on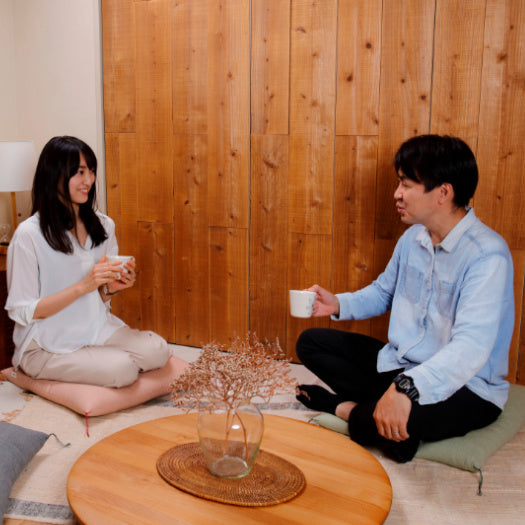 DAILY RELAXATION

Relax at home with your favorite zabuton cushion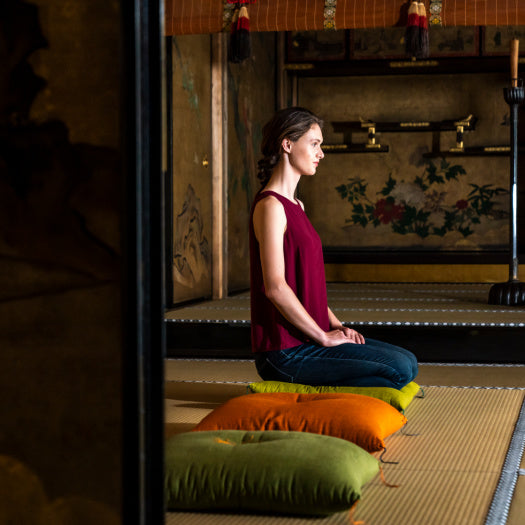 MEDITATION

Practice self-care and mindfulness to reduce stress and regain a sense of calm and peace
Why can we relax so well?
The Importance of Our Craftsmen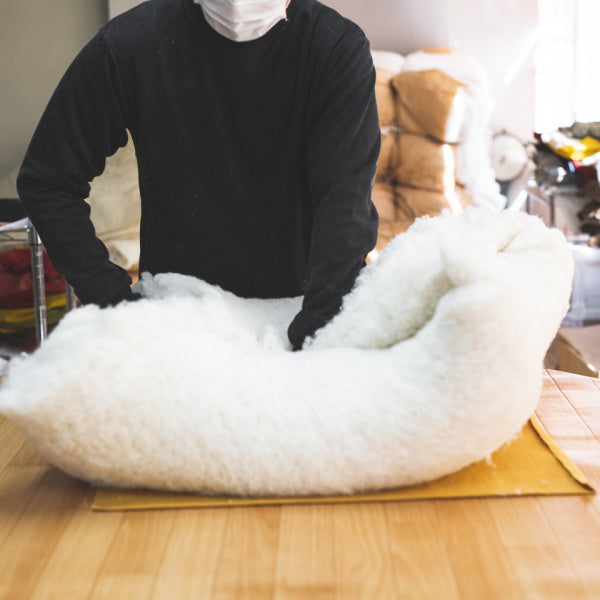 The secret of relaxation
Stuffing by skillful craftsmen
The stuffing stage is one of the most important parts of the production process. It does not only determine the comfort level of the finished products, but it is also what allows the product to keep its integrity even with frequent use. The zabuton has a large amount of filling in the center part where the weight is applied. Our skilled craftsmen are concerned with the longevity of their creations, so they would like to make sure that even in the future, each product is still as comfortable as the day it was made.
The craftsman's experience and care of "thinking about the user and putting inner filling", which cannot be achieved by machine production, create "comfort" and "relaxation".
"Omotenashi": The Spirit of Kyoto hospitality
Three Characteristics of Kyoto Zabuton
"Sampo-toji": Three-pronged stitch

The three-pronged stitch on the top of a zabuton, known as "toji," has the function of keeping the
cotton evenly distributed. Most zabuton use a "toji" in the shape of a cross, but Kyoto zabuton use
the three-pronged stitch shown the picture. The tail of the "Y" shape points to the front of the zabuton for the user's convenience. When you serve the zabuton to your guest, you do not mistake the direction of the zabuton by looking at this stitch.
"Kamaboko-gata": Dome shape

The underside of the zabuton cushion is flat, which ensures the stability of the cushion. However, the top side of the zabuton is filled to create a dome-like shape, which is reminiscent of the shape of a Japanese fishcake called kamaboko. This shape does not only provides fluff, but it also prevents the zabuton cushion from thinning too quickly, even with frequent use. The plump and natural curve shape of the zabuton cushion is an indication of the skill possessed by the maker.
"Sumi-fusa": Tasselled Corners

The corner tassel stitches on a zabuton cushion are called "sumi-fusa". It does not only function as a decoration, but it is also a traditional technique used to make sure that the cotton filling does not come out from the corners of the cushion. In ancient Japan, it is believed that putting tassels on the corners of the cushions prevents evil from possessing the user.
Create with takaokaya's craftsmen
Takaokaya believes that by having customers participate in the manufacturing process, such as selecting materials, we can make our Kutsurogi products with a special feeling that is entirely relaxing. We also believe that the experience of creating together with them will promote relaxation and lead our customers to attach to our products. Those are not able to be provided by ready-made products.
Solid? Japanese? Nordic?
which color or pattern do you like?
Product Description

[Sizes (approx.)] S (50×55 cm), M (55×59 cm), L (59×63 cm), XL (64×68 cm)
[Fabric] 100% Cotton
[Filling] 100% Cotton
[Tassel] 100% Silk
[Filling weight] S: 1.0kg / M:1.2kg / L:1.4kg / XL:1.6kg
Color

This product's page is "kyoto zabuton cushion | solid color". The color can be selected from Solid colors from our cotton collection. Please check colors from our cotton fabric sample. >>>SEE SAMPLE
Magnifique coussin
Je viens de recevoir mon coussin aujourd'hui, on reconnait le soin et la minutie qu'il a fallu pour réaliser ce chef d'œuvre, il est vraiment très confortable et de très haute qualié, un grand merci à toute l'équipe et un grand bravo c'est du travail d'orfèvre !!
Romain-san,
Merci beaucoup pour vos gentils mots et la belle photo ! Nous sommes ravies que vous aimiez votre coussin. Votre satisfaction est notre plus grande récompense.
À bientôt !
Team Takaokaya
Karen
I received my zabuton and it truly made my day. It is beautifully made, bouncy yet firm if that is not too contradictory, and extraordinarily comfortable. The colours are gorgeous and I'm especially grateful for the help I received in choosing the fabric and tassel colour combinations. It is precisely what I was seeking and already bringing me great pleasure. I am so pleased. Arigato gozaimasu!
hello Katherine-san! So glad that we made your day with our handcrafted Zabuton and that you find it extraordinarily comfortable. :)
Thank you also for the picture! Looks gorgeous in your home!
Happy Kutsurogi Every Day!
Valery
Team Takaokaya
Excellent Cushion Ever!
A truly beautifully handmade cushion, the craftmenship that has gone into making these cushions is outstanding. To have and use a Kyoto Zabuton Cushion is a pleasure and joy beyond words.
And it's our pleasure to make these cushions for your enjoyment, Elizabeth-san! Your review has also brought us lots of joy and encouragement for all of us in Takaokaya!
Valery
Team Takaokaya
wonderful all round
the zabuton is beautiful and really comfy, and the personal message included in the box made my day!
Dear Jeroen-san,
Thank you very much for leaving a kind review ! It made our day as well to learn that you liked the Zabuton :)
Please enjoy and hope to hear from you again soon.
Team Takaokaya,
Karen
My favourite zabuton
I'm absolutely stunned at the craftsmanship and comfort of the Kyoto zabuton. It's such a delight to sit with, and the suou fabric is incredibly deep and rich. I look forward to enjoying this for many years.
Thanks Cole for leaving 2 great reviews! You have made our day!
Happy Kutsurogi!
Nanako
Team Takaokaya
a gift from us
Celebrating 104 years of love & support!

From October 2nd 2023 to November 1st 2023, enjoy ¥1,000 off minimum purchase of ¥30,000. >>> READ MORE

*Subscribe to our mailing list to be the first to know about promotions and new launches!