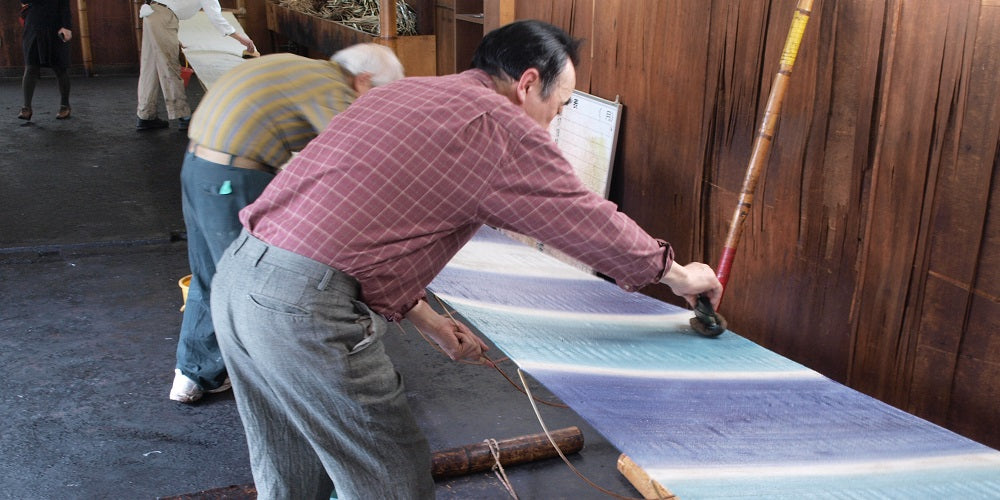 Kyoto Hikizome Dye (引き染め)
One of Takaokaya's Japanese traditional fabric collections "Hikizome". 
Hikizome (lit 'pull dye', 引き染め) is a traditional Japanese dye technique in which fabric is stretched tight, water is applied and then dye is applied by hand with a brush. Painting the dye into the wet fabric causes it to blur. This technique can also be known as bokashizame, (lit. 'blur dye'). Horizontally, the fabric is stretched and pulled tight between the two ends of the dye workshop. This is about 15 meters in length. The fabric width is between 50 and 100 cm. 
Width-wise it is spread tight with narrow bamboo sticks called 'shinshi' in Japanese.
At Takaokaya, we collaborate with a number of traditional Kyoto dye artisans including Nishimura-san who specializes in Hikizome exclusively. Nishimura-san is the 4th generation proprietor of his century-old family business.
Currently, the workshop is located in the Muromachi neighborhood which is the traditional dyeing district of Kyoto. However, Nishimura-san's ancestors started out further up north in the Ogawa area (lit 'little stream'). This area was famed for it's fresh, clean water, therefore the Schools of Japanese Tea Ceremony — Wikipedia article — Urasenke, Omotosenke, and Mushakojisenke can still be found here.
Surely Nishimura-san's ancestors were drawn to this neighborhood due to the quality, fresh flowing water which is needed in large quantity for these dyeing arts.

We'll share some behind the scenes photos here.



One thing we were struck by is how modest the workshop is. While we see all the signs of generations of use and care, some may see it as just dirty and messy. No mater the discipline, these old Kyoto workshops are always like this.




While the workspace is never elegant, the lovingly handcrafted products that come out of them are exquisite and sublime in their beauty. It is a very peculiar contrast.