This store requires javascript to be enabled for some features to work correctly.
story of ojami
The Ojami Cushion is the brainchild of Takaokaya's 3rd generation CEO, Koichiro Takaoka. Being particular about relaxing, he has always found it a little uncomfortable to fold the traditional zabuton cushion in half when sitting on the floor. So he wanted to revolutionize the experience of sitting down by creating a cushion that everyone can "sit comfortably by raising our bottom", as part of his lifelong quest of pursuing the art of relaxation and creating kutsurogi products that put a smile on everyone who uses them. Inspired by the ancient Japanese beanbag toy called otedama (or ojami in the Kyoto dialect) and coupled with his many years of knowledge gained from creating kutsurogi products and making cushions, the Ojami cushion which offers unsurpassed comfort, finally came to fruition.
how to enjoy Kutsurogi
ojami cushion relaxation guide
Learn and experience the art of kutsurogi (relaxation) with your beloved Ojami Cushions. Below are some of our favorite ways to relax with the Ojami... try our ways or find your own sweet spot for relaxation with your beloved Ojami and share with us!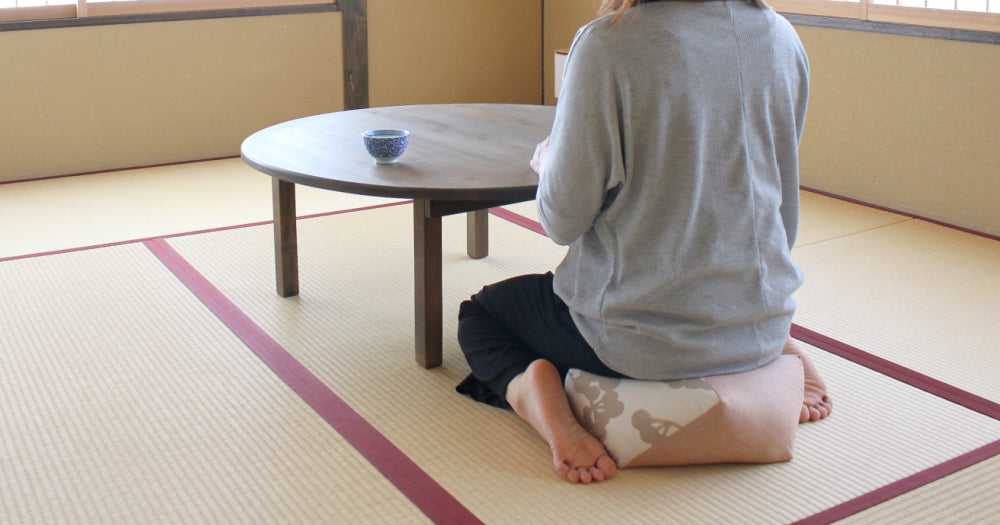 Seiza (Kneeling)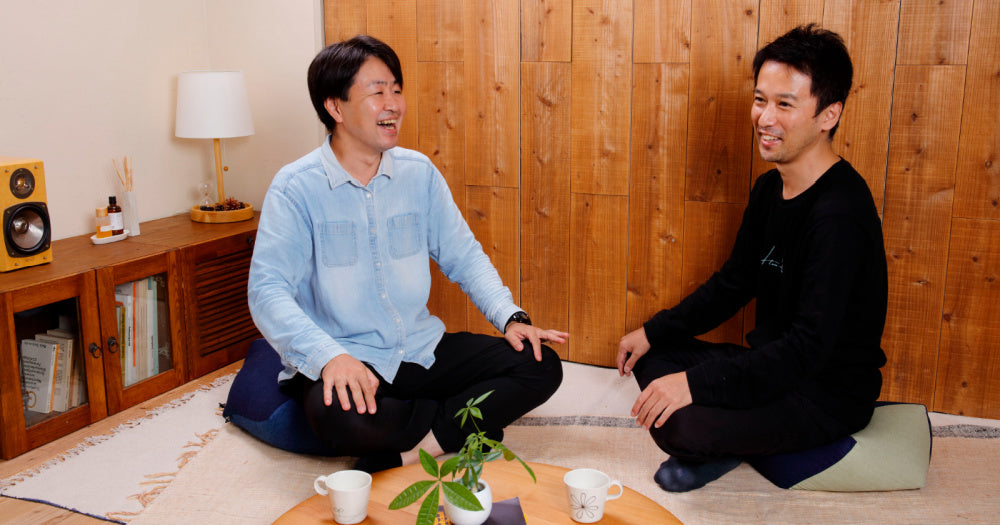 Agura (Cross-legged)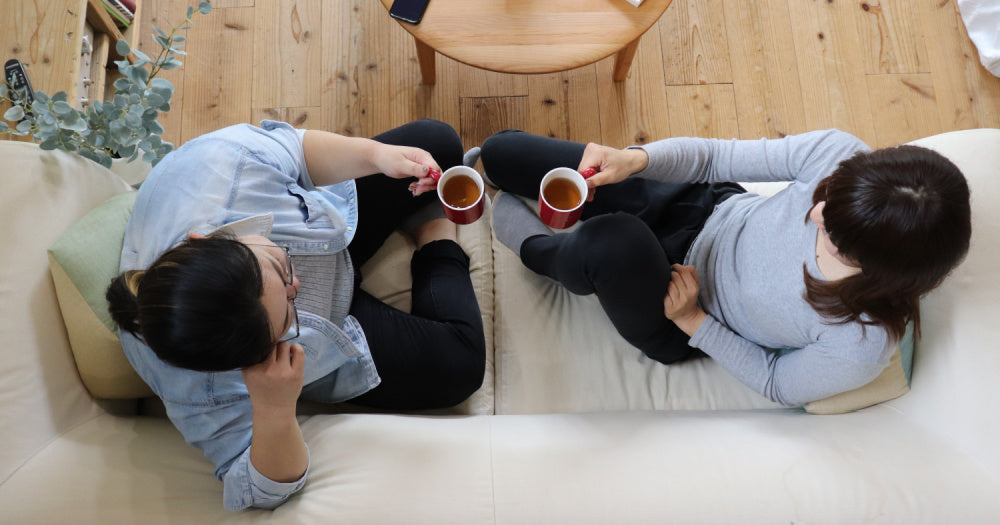 Back rest on the sofa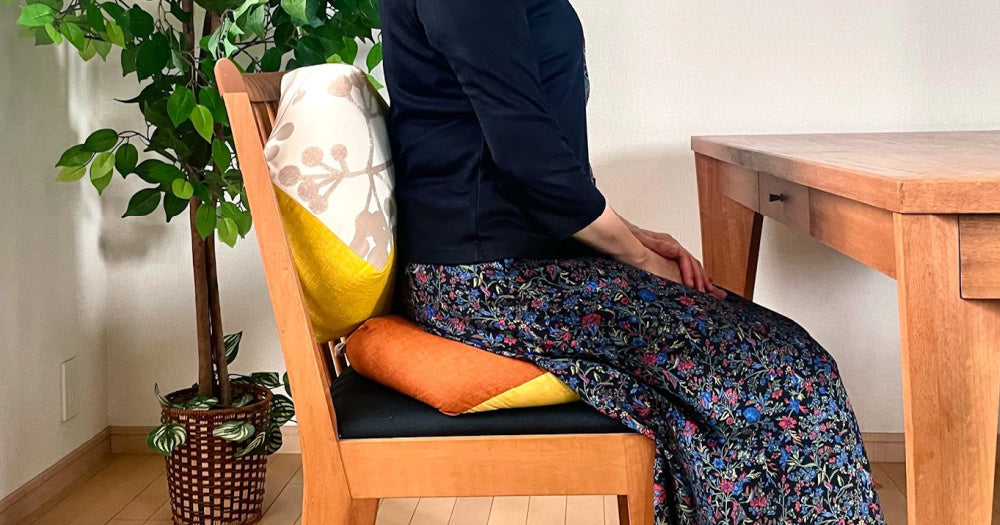 BACK Support ON Chair
why is the ojami so relaxing?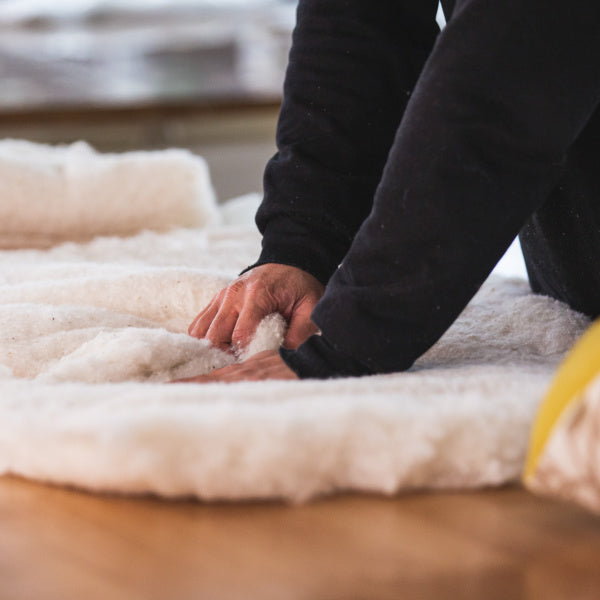 THE SECRET OF RELAXATION 1
stuffing by skillful craftsmen
Unlike ordinary cushions, the Ojami is designed to be three-dimensional and is hand-stuffed with cotton by our craftsmen to ensure greater volume and fluffiness all over. The Ojami Cushion, being thicker, helps to elevate the bottom so you can sit more comfortably and relax.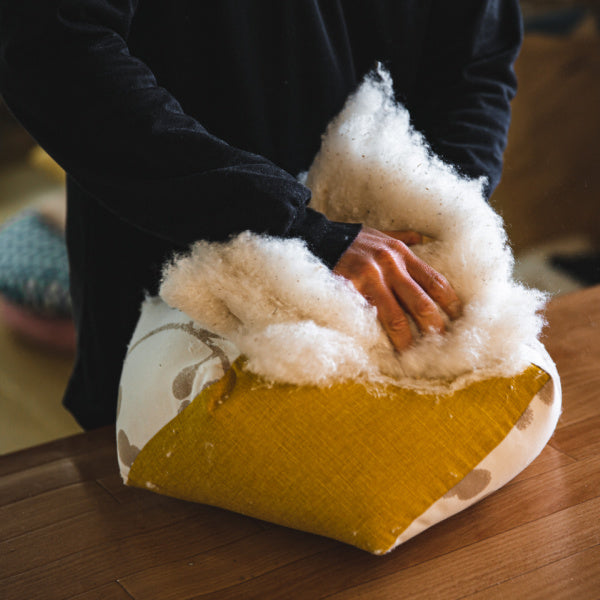 THE SECRET OF RELAXATION 2
three-layer structure
To prevent the Ojami from going flat easily and to give support for a good sitting posture naturally, we created a three-layer structured inner filling. We selected a special urethane which is used as the core, which is then wrapped with a cotton pad, to create exquisite firmness and thickness.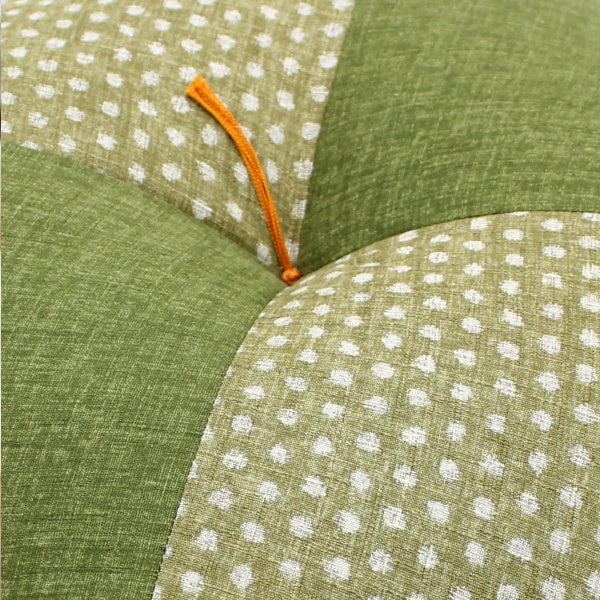 THE SECRET OF RELAXATION 3
Shape secured by center stitch
Middle stitches are applied to the center of the cushions to keep the cotton filling in place. The contours achieved by this stitch, naturally take the form of your body when you sit or lie down on the Ojami, to provide absolute comfort and rest.
Beautiful cushion
I love my Ojami. I bought it with the Kyoto zabuton to use in meditation, and I'm enjoying both of them so much. The design is really unique and beautiful, the craftsmanship is outstanding, and it's incredibly comfortable to sit with. I'll be enjoying my Ojami for a long time!
Dear Cole,
Our kangu is handcrafted to last and yes, we want you to enjoy your meditation sessions for a long time!
Thank you for the positive review!
Happy Kutsurogi!
Nanako
Team Takaokaya
Best Cushion and service
I have been following Takaokaya on Instagram for some time now and when I was able to visit Kyoto recently I decided to stop by the store. Best decision ever! Nana-San sat with me and explained all the different kinds of cushions and let me try them to see which one would be best for me. I picked the color I wanted and then it arrived 2 weeks later! It's been so nice to use it on the sofa as a back support but I like that I could use it as a floor cushion should I want to do that instead!
Hi Kathryn-san
It's been my pleasure to have you visit Takaokaya workshop, and I am glad that we were able to co-create an Ojami that you love!
Do continue to follow us on IG and help spread the love! Hope to see you again in our workshop when you next visit Kyoto.
Happy Kutsurogi (relaxing)!
Nanako
Team Takaokaya
Love my Ojami!
We came across Takaokaya while searching online for Japanese-made cushions. The purchase process was done entirely online (we hope to visit their shop when we next visit Japan) but it's super easy to navigate and Nanako-san was very prompt in replying to our queries and making recommendations by understanding our needs. We love our Ojami!
1. Exceptional quality and make (Japanese craftsmanship) - just the perfect balance of fluffiness and support and they retain their shape really well
2. Beautiful fabric - We had a tough time deciding which designs as we loved all their designs (they could even do customised fabric if there's something you have). We also bought the covers so we could get them washed and have different designs
3. Versatile - We use them primarily on our sofa but also sometimes on our work chair or even for sitting on the floor. Think about the primary purpose of your cushions so they can advise you on the appropriate type and size.
4. Wonderful team - The sincerity and passion from the team shine through both in our interaction with them and the products they make. You feel the personal touch and great after-sales service.
Thank you Takaokaya team! :))
Dear Aileen-san,
Please do visit us at our workshop when you next visit Kyoto, we will be most happy to take you on a kutsurogi (Japan art of relaxation) experience with our kangu (tools of relaxation).
Thank you so much for your kind words and compliments for our products and services, and also sending us a photo. You are awesome!
Hope to see you in person soon!
Nanako
Team Takaokaya
Extraordinary
I love this Ojami very much . It's my first of its kind and I'm excited about it! The quality is excellent .
I would like to thank Sonya for her kind help !
Beautiful and Unique!
I had never heard of these pillow before but I ordered 2 because they seemed cool. That was an understatement for sure! They are so beautiful and they compliment the zabuton I ordered so well. I love the that they have 2 colors that work together. They are also much sturdier and more comfortable than I even imagined! Definitely order these if its something you are thinking about!
a gift from us
Celebrating 104 years of love & support!

From October 2nd 2023 to November 1st 2023, enjoy ¥1,000 off minimum purchase of ¥30,000. >>> READ MORE

*Subscribe to our mailing list to be the first to know about promotions and new launches!