This store requires javascript to be enabled for some features to work correctly.
story of senbei zabuton cushion
Originally, this cushion was created as a gift for Father's Day. It was not created for babies and children from the beginning. We started to introduce it as a place mat for children's naps, triggered by the voices and photos from our customers who said it was very useful for their babies' napping. Then it became the most popular product at Takaokaya. When babies lie down on the cushion, it feels so good and they naturally smile. We will bring a comfortable space through senbei cushions.
why can we create babies smiles?
When they lie down or play on our senbei baby play mat cushion, they give us big smiles.
Whenever we see their smiles, we also smile and feel very happy.
What is the secret of the senbei mat cushion to create smiles?
SECRET TO CREATE SMILES 1
water repellent finish and cover set
We added the water-repellent finish to the senbei cushion, so it is not easy that liquid goes into inside, and it is easier to clean daily by wiping it off quickly. Even if it gets dirty when babies spit up milk, the cover absorbs the liquid, so you can remove it immediately and wash it at home. These makes not oonly babies' smile but also mothers' too!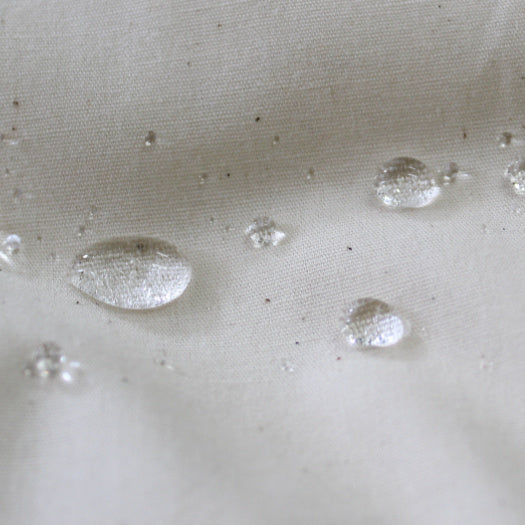 water repellent finish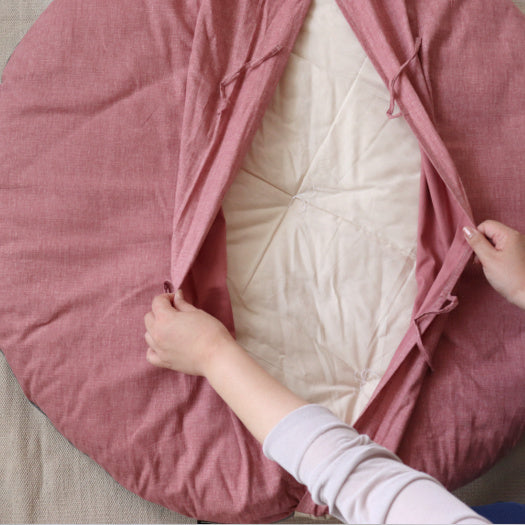 Cover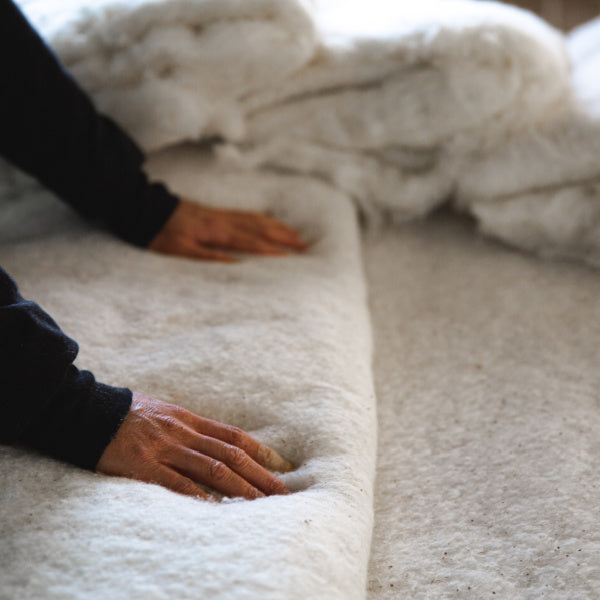 Secret to create smiles 2
inner filling with plesant firmness
The inner filling of the senbei cushion is mixed filling with "70% cotton, 30% polyester". This ratio was produced from the experience and knowledge of the craftsmen of Takaokaya, who have been making zabuton cushions for many years. By adding a large amount of cotton and a small amount of polyester, the one will not be too fluffy and will have a pleasant firmness, and the baby will be able to relax comfortably and safely.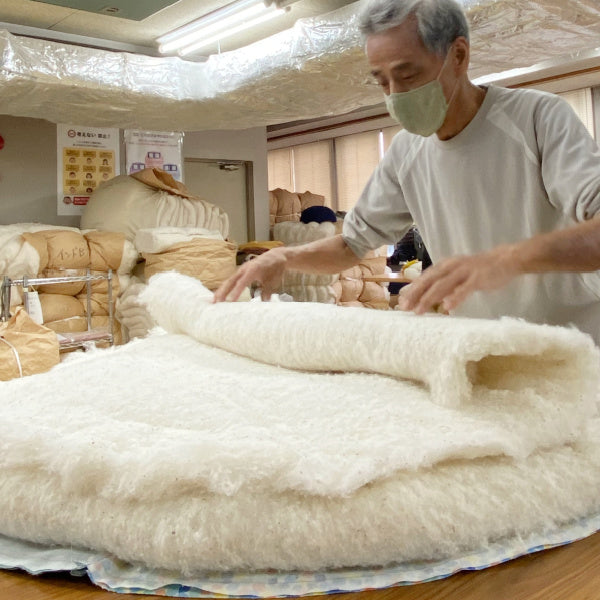 SECRET TO CREATE SMILES 3
Stuffing by craftsmen
Stuffing is also unique to our craftsmen who make cushions. It has a large amount of filling in the center part where the weight is applied, and the filling is evenly layered on the whole to give it an appropriate thickness. The craftsman's experience and care of "thinking about the user and putting inner filling", which cannot be achieved by machine production, create "comfort" that makes the baby smile.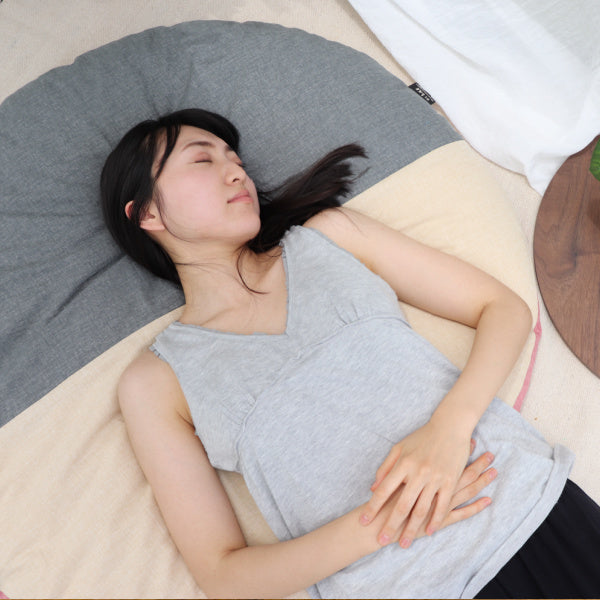 SECRET TO CREATE SMILES 4
Babies to adults, Versatile size with variety of usage
The senbei cushion has a large diameter of 100cm and is attractive. Just lay it in the living room, then it will turn into a comfortable nap space that your baby will love. Also, due to its size, babies can take a nap with their brothers and sisters, sit down with their parents by reading a book, and so on. When they grow up, the cushion can be used as a rug for the interior of your room. In addition, it is a size that even adults can relax comfortably, so please use it anyway you like.
SECRET TO CREATE SMILES 5
designs and variety of colors
All Takaokaya products are custom ordered due to handmade by craftsmen. We will make our products with your favorite colors, and designs.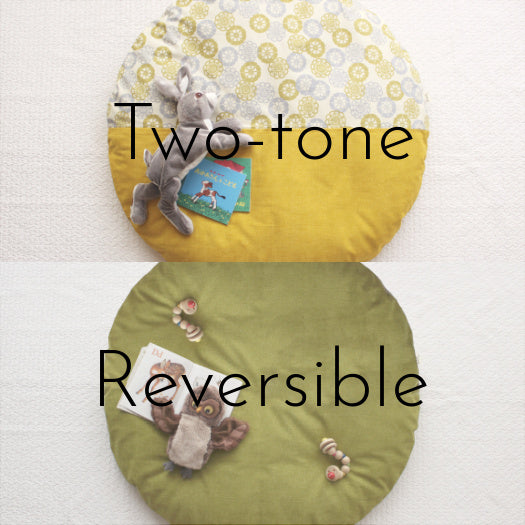 Design

We have two designs for the senbei cushion. "Two-tone" with different colors and patterns on the left and right, "reversible" with different colors and patterns on the front and back. * Of course, you can choose the same color for the front and back.
Their smiles always make us happy. Smiles make smiles.
Popular Color Combination
Ranking top 3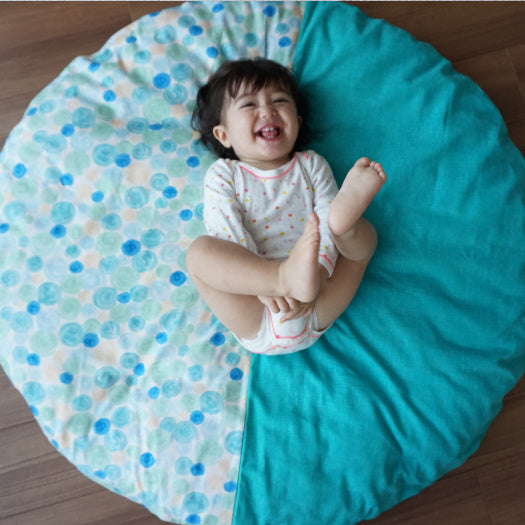 #193. Bubble Fuyu × #169. Rangyoku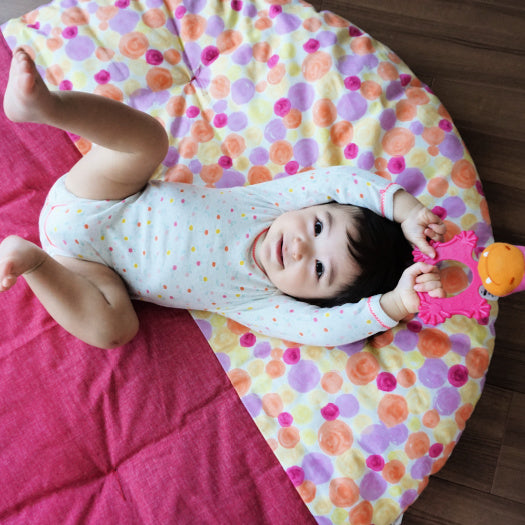 #192. Bubble Haru × #020. Tsutsuji
#049. Floral Green × 021. Nanohana
Product Description

*Consisting: Inner pillow and cover

Inner Cushion
[Sizes (approx.)] Φ100cm
[Fabrics] 100% Cotton (water-repellent finish) 
[Filling] 70% Cotton, 30% Polyester
[Filling Weight] 1.1kg

Cover
[Sizes (approx.)] Φ100cm
[Fabrics] 100% Cotton
We ship internationally, but if you can't find your country at checkout,

CLICK HERE

to contact us for a personalized quotation!