This store requires javascript to be enabled for some features to work correctly.
Learn More about Kake Futon Comforter
Tassel
The tassels that adorn every Kake Futon Comforter are hand-sewn by our craftsmen, using the watoji stitching technique, which also help secure the cotton filling in place for better heat retention.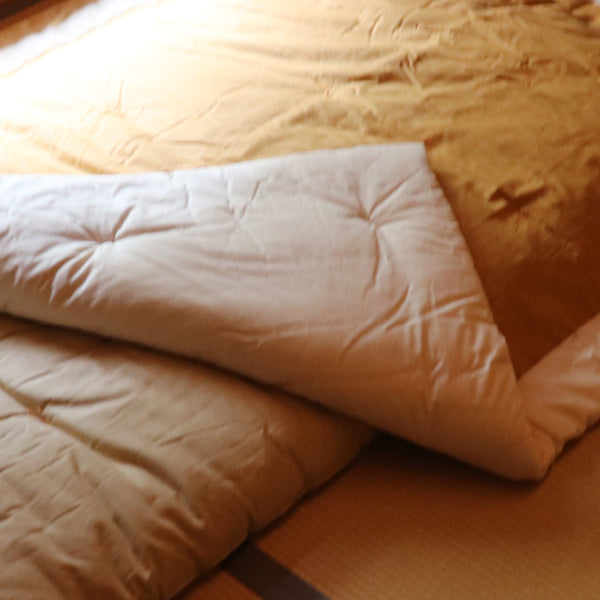 Natural fabric
The naturally white fabric used to make Kake Futon Comforter is known as kibata. Being 100% natural (no bleach or dye used), you can see remnants particles of cotton flowers which appears as
tiny black dots.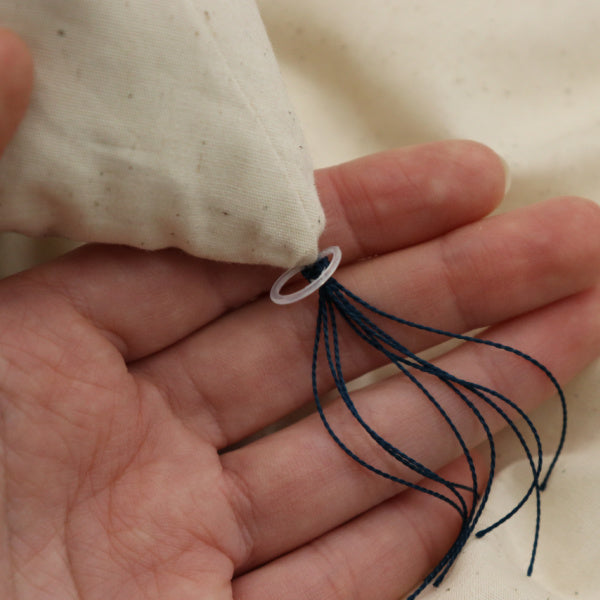 Circle Loop
The circle loop on each corner allow you to attach a Kake Futon Comforter cover.
See Kake futon Cover
Toasty and soft!
It's a big and fluffy comforter that keeps you warm in the colder seasons, and it's very breathable! The weight of the blanket evenly distributes across the bed when you sleep, so it doesn't feel too heavy, but rather very comforting. The color and patterns are lovely and the stitching is truly excellent. Staff member Valery very kindly and patiently answered my questions as well! A wonderful product with a wonderful staff!
You are too kind Jennifer! I was glad that I was able to assist and helped answer your questions. We are really happy to know that our handcrafted futon is so well-loved and keeping you snug and warm this autumn and coming Winter.
Thank you for leaving this review to help more people know the comfort and quality of our products!
Happy Kutsurogi!
Valery
Team Takaokaya
Amazing quality, delightfully fluffy and warm
I was not disappointed when my kake futon arrived in the mail, carefully folded and packaged in a plastic cover. The cotton material is wonderfully soft, the tassels are well-made, and the cover makes it so convenient for washing. I love that the futon is all cotton which makes it breathable even in New York humidity and heat. It also has a nice weight which is comforting when falling asleep.
I honestly think the futon has made it easier for me to get better quality sleep. I'm waiting to get a larger place to also order the shiki futon for napping!
Dear Diana-san,
Thank you for also writing a review about the Kake Futon. It really made us happy that you like them !
Enjoy snuggling with it and we look forward to making a Shiki Futon for you ;)
Team Takaokaya
Karen
Excellent and Versatile
Keeps me both cool and warm and has helped with allergy relief. Could not recommend enough! Awesome, versatile, and convenient product.
Dear Mojgan-san,
Thank you so much for taking time to write a very kind review :)
It made our day to learn that you can kutsurogi with your Kake-Futon.
Hope to hear from you again soon and thank you once again !
Regards,
Team Takaokaya
Karen
Excellent
The international shipping was incredibly fast, and the quality of the comforter and cover are exceptional. This is true craftsmanship at an incredibly reasonable price.
Hi JA... so glad to know that you are loving the quality and craftsmanship of our kangu! Nothing makes us smile more than knowing that we have made you smile first with our handcrafted kangu!
Happy Kutsurogi!
Nanako
Team Takaokaya
Warm and Comfy Kake Futon
Dear Customers,
This is the most trustworthy company. The service and assistance that I received from Sonya was unsurpassed. She helped me with the colour chart and was with me every step of the way.
The quality and craftsmanship of the kake futon is excellent +.
The comfort of sleeping under a kake futon is beyond comparison.
I am very pleased and satisfied.
It has been a cold, cold winter, for Israel standers. The kake futon keeps me so warm and cozy. I feel like I'm in a cocoon. It's lovely!
I will definitely buy more products from Takaokaya, Kyoto.
You have much to be proud of.
Thank you so much,
Michella
Dear Michella-san,
Thank you so much for your kind words and comments.
We are really happy that you satisfied our futon! Yes, please keep you warm and have good rest with Kake Futon!
Thank you so much for your support to Takaokaya!
Warm Regards from Kyoto,
Nanako