This store requires javascript to be enabled for some features to work correctly.
Learn More about Kake Futon Comforter
Tassel
The tassels that adorn every Kake Futon Comforter are hand-sewn by our craftsmen, using the watoji stitching technique, which also help secure the cotton filling in place for better heat retention.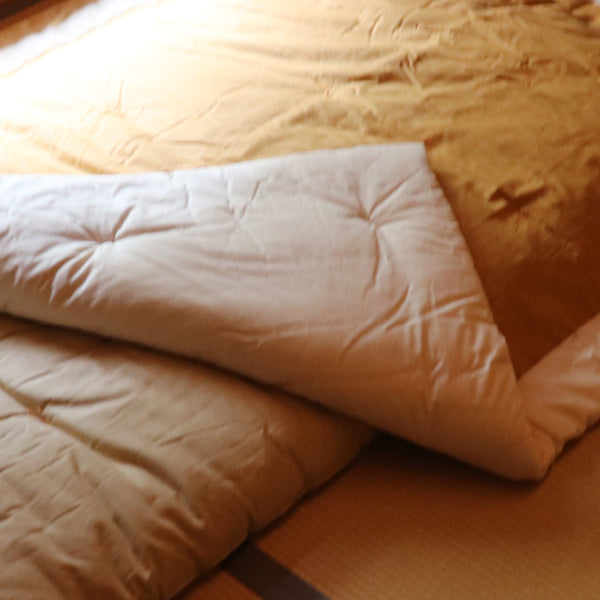 Natural fabric
The naturally white fabric used to make Kake Futon Comforter is known as kibata. Being 100% natural (no bleach or dye used), you can see remnants particles of cotton flowers which appears as
tiny black dots.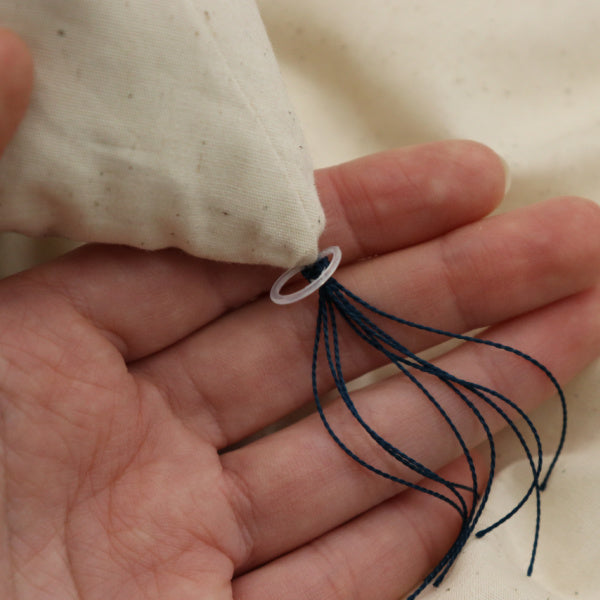 Circle Loop
The circle loop on each corner allow you to attach a Kake Futon Comforter cover.
See Kake futon Cover
Why so good?
Secrets of 100% cotton filling
Kake Futon Comforter, shibori green.
Fantastic, exceptional quality. Just like those used in Japan itself. A stunning shibori green print.
So glad to know that you are loving our Kake Futon Comforter, Felix-san! We hope that you are enjoying many nights of restful sleep, getting snug under the warmth of the comforter!
Nanako
Team Takaokaya
"Futon Bedding and Ojami Cushions: Beauty, Perfection, and Culture Continued"
"Gorgeous, beautiful, Superb Quality," these were the words expressed when we spread out our latest Futon bedding made by the Takaoka Futon Co Ltd. in Kyoto Japan. "Feel the lightness, the fluffiness, and the gorgeous Sakura floral pattern" whispered Patricia. Our selection of the Linen and Cotton materials in combination was just the balance we sought in the new Futon bedding for our Western contemporary bed.
Outside the TakaOKaya store and factory outlet, the Sakura Blossoms were in full bloom in the April season. Our Sakura floral patterns selected for the Futon was truly a perfect match. Having returned to Hawaii and reminiscing , we will forever remember our wonderful experiences that we had while visiting Japan in Spring; the graciousness of its Owner and Staff extended to us at Takaoka; and the lifetime of beautiful memories that we will always cherish deeply embedded culturally and spiritually, in our new Futon bedding.
Don and Pat
Dear Enoki-san
Thank you very much for posting your comment.
It was nice meeting you at Takaokaya.
I'm happy to hear that you and your wife like our futon with Sakura pattern!
We arranged inside filling fits to the climate in Hawaii.
Hope you enjoy to relax and sleep with our futon!
If you have any further questions, please do not hesitate to ask us.
Nanako