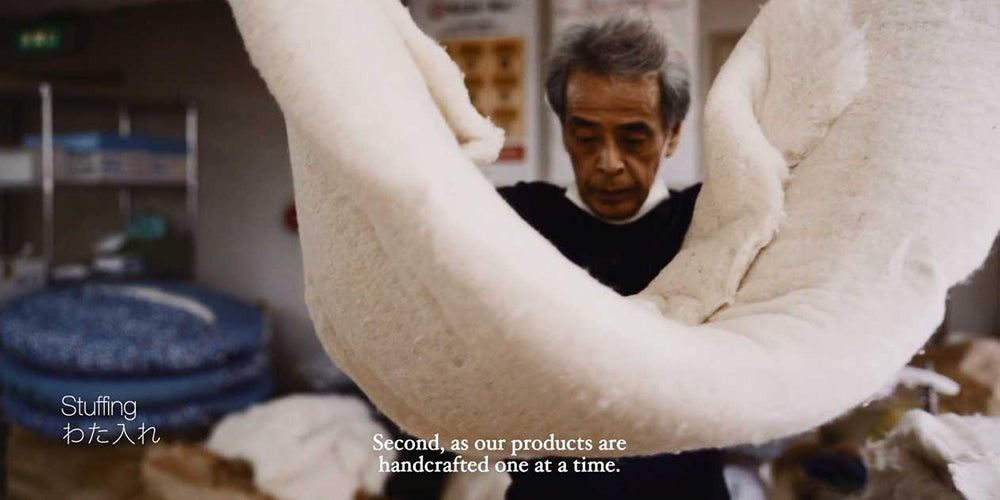 Takaoka Futon Co., Ltd. was founded in 1919 to manufacture futons for Kyoto's long-established departmental store Daimaru. In this September, 2019, we are proud to celebrate our 100th year anniversary.
During this period, except the World War Ⅱ, we have been able to continue our business until now with overcoming difficulties since Shuichiro Takaoka, the second generation of our company, established the company in 1961.
This would not have been possible without our clients, our business partners, our suppliers, and the number of Takaokaya clues, everybody's contribution.
We would like to express our deepest gratitude for your warm support and cooperation.
Now, we are renovating our office building.Our office and packing area in first floor, showroom and stock space in 3rd floor will be open in turn, so everything will be finished in February in 2020.
Moving into the 21st century, we created the brand "Takaokaya", to focus on creating home furnishings which offer kutsurogi (relaxation) to any lifestyles. Takaokaya is a range of masterfully crafted "Kangu" (寛具), which means relaxing products in Japanese.
We have a simple philosophy of "simply bringing a smile on everyone's face" with our kutsurogi products. We hope that our handcrafted kutsurogi products will continue to bring smiles to faces, and will continue to preserve this century-old art form of using traditional futon techniques to create various relaxing products, to bring joy for another 100 years and beyond.
September 1st, 2019.
President
Koichiro Takaoka