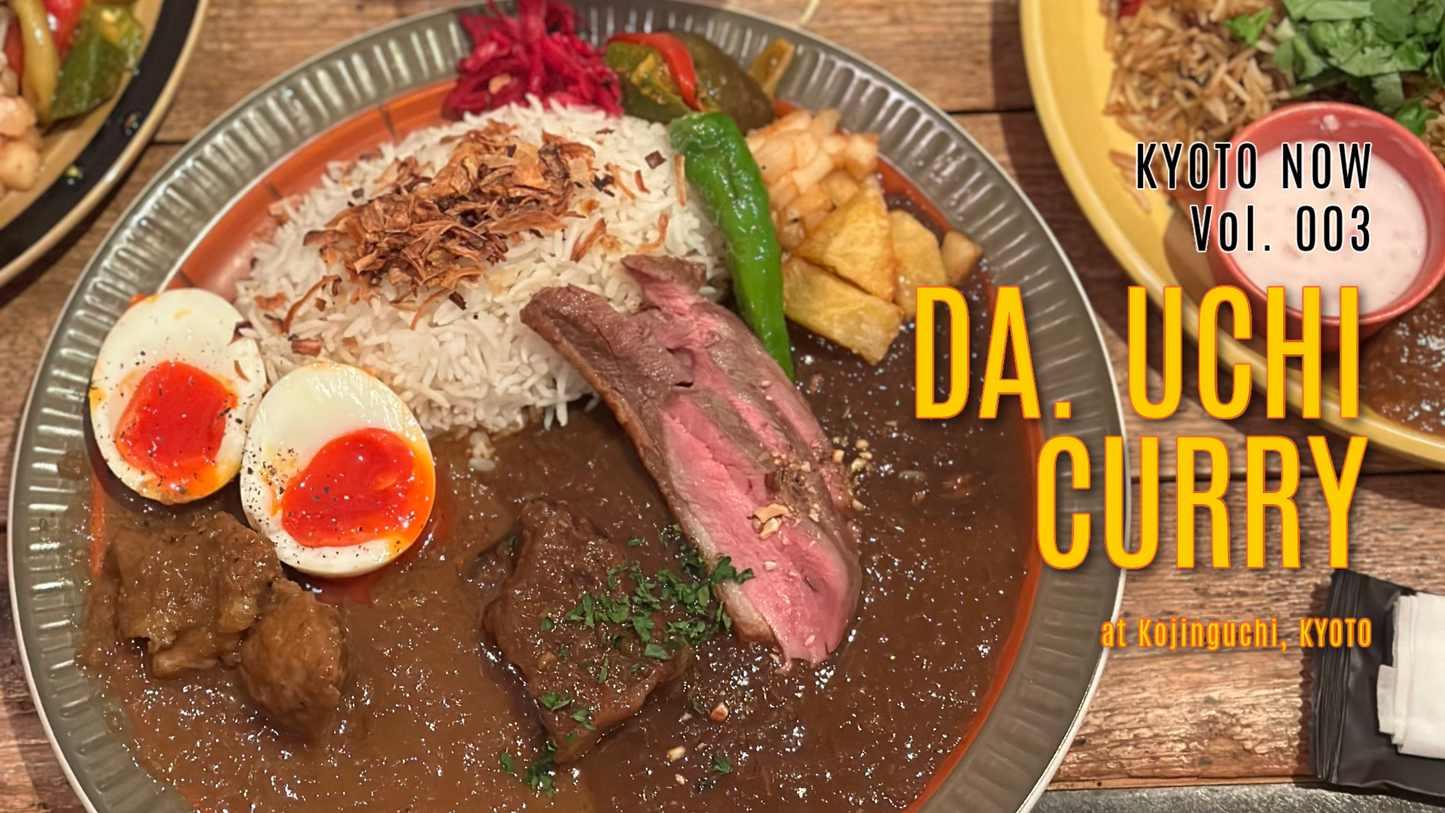 DA. UCHI CURRY - When Japanese Curry marries French Cuisine
"Work Hard. Eat Well. Play Often" - that's the motto of the Takaoka team global. And we hope to share with everyone how we are eating well after a hard day's work and hope that you too, can enjoy some of Kyoto's best food while here.
Introducing Nanako's favorite curry place: DA. UCHI CURRY - a wine bar restaurant that specializes in curries with a twist of French cuisine elements. 
The owner came up with this unique concept because he used to be a wine sommelier and wanted to incorporate his love for wines and curries to showcase how wines pair well with curries. Pairing the curries with wines not only elevate the taste of the curries but also create more umami and deeper flavours for greater enjoyment.
DA. UCHI CURRY is located near the Kyoto Imperial Palace (京都御所). From Takaokaya, we took the Karasuma Line (烏丸線) Subway from Gojo Station (地下鉄五条駅) to  Marutamachi Station (地下鉄 丸太町駅). We exited via Gate 1 and took a 15-minute walk to the restaurant.
Closer to the restaurant is the Jingu- Murutamachi Station (神宮丸太町駅) on the Keihan Main Line (京阪本線). It will take about 8 minutes on foot. 
Though small, the restaurant is very cozy, giving off vibes of a Parisian cafe with it's eclectic interior decor of mismatched antique chairs and tables. With an open kitchen, not only can you see how the owner-cum-chef prepares your food but also get a whiff of the delicious aromas that fills the restaurant.
The quirky logo of DA. UCHI CURRY of The Currymaid was created by artist Koike Sota, who got his inspiration from Johannes Vermeer's The Milkmaid. And the picture of The Currymaid is hanging on the wall, near the entrance.
While the menu for the day might look simple, with a selection of 5 different types of curries and a few side dishes and entrees, it is interesting to note that the chef changes the menu monthly, and based his menu on food produce that is in season. By doing so, he can create amazing tasting food with the freshest ingredients that reflect the essence of the current season.
When the team was there for dinner on a Friday, the menu offered Chicken Katsu (cutlet) Curry, Red Wine Chicken Curry, Madras Chicken Curry, Wagyu Beef neck, Duck Curry, and Red Shrimp Cream Curry. For those who can't decide what to have, opt for Aigake - あいがけ - (in Japanese), where you can choose a combination of two curries of your choice. And that day for dinner, we can choose between white rice or briyani rice (spiced rice) to go with the curries.

"Otsukare-sama!" ( Thank you so much for your hard work!) The team making a toast with our glasses wine and beer, and digging to the entree dish which is a potato and bacon terrine served with salad.
| | |
| --- | --- |
| | |

After we were done with the entree, it was time to savour the star dish - the curries! When my order of briyani rice with duck and beef neck curries with an extra Hanjuku tamago (soft boiled egg) arrived, it was both a breath-taking and mind-blowing sight because I never knew curries can be plated so beautifully and everything just looks so mouth-watering appetising that I can't wait to dig in. The amount of attention to detail that the chef put in cooking and presenting the curries was immaculate and every plate is a piece of culinary artwork.
As all of us ordered the beef neck curry but it was not enough to go around that day, so the chef added a third curry - madras chicken curry - to make up for it. All three curries were flavourfully delicious and yet tasted distinctively different. It felt like an explosion of flavours in my mouth with every bite. The flavours evolved into something new depending on the combination of curries I mixed, proteins I picked, and topping of egg or homemade pickles I choose to put in a spoonful. 
I really enjoyed the beef neck because of its melt-your-mouth tenderness. The sou-vide duck was tender and juicy. The soft boiled egg with the runny bright red yolk was just magical and goes really well with all the curries.
The chef was also very kind to make a non-spicy curry roux for Reina's beef neck curry as she can't take spicy food. She had her beer on standby in case the curry set off the fire alarm in her mouth but that never happened. She thoroughly enjoyed her curry.

Nanako and Valery ordered white wine that day. According to them, the housepour of the day was bright, floral and fruity. The acidity of the wine was well balanced  and paired well with the curries.
Time flies when you are having a good time! We stayed till closing and felt re-charged from having a delicious meal and bonding with each other.
When you are in Kyoto the next time to visit our workshop, and would like to try one of the best curry restaurants in Kyoto, be sure to check out DA. UCHI CURRY.
 DA. UCHI CURRY
Address:
1F Hirata Building, 120 Kojincho, Kamigyo-ku, Kyoto-shi, Kyoto Prefecture
Opening Hours:
11: 30 - 15: 00 (LO 14: 30)
18: 00 - 21: 00 (LO 20: 30) Friday and Saturday only
CLOSED ON WEDNESDAY AND SUNDAY
For more information: https://www.instagram.com/dauchicurry/