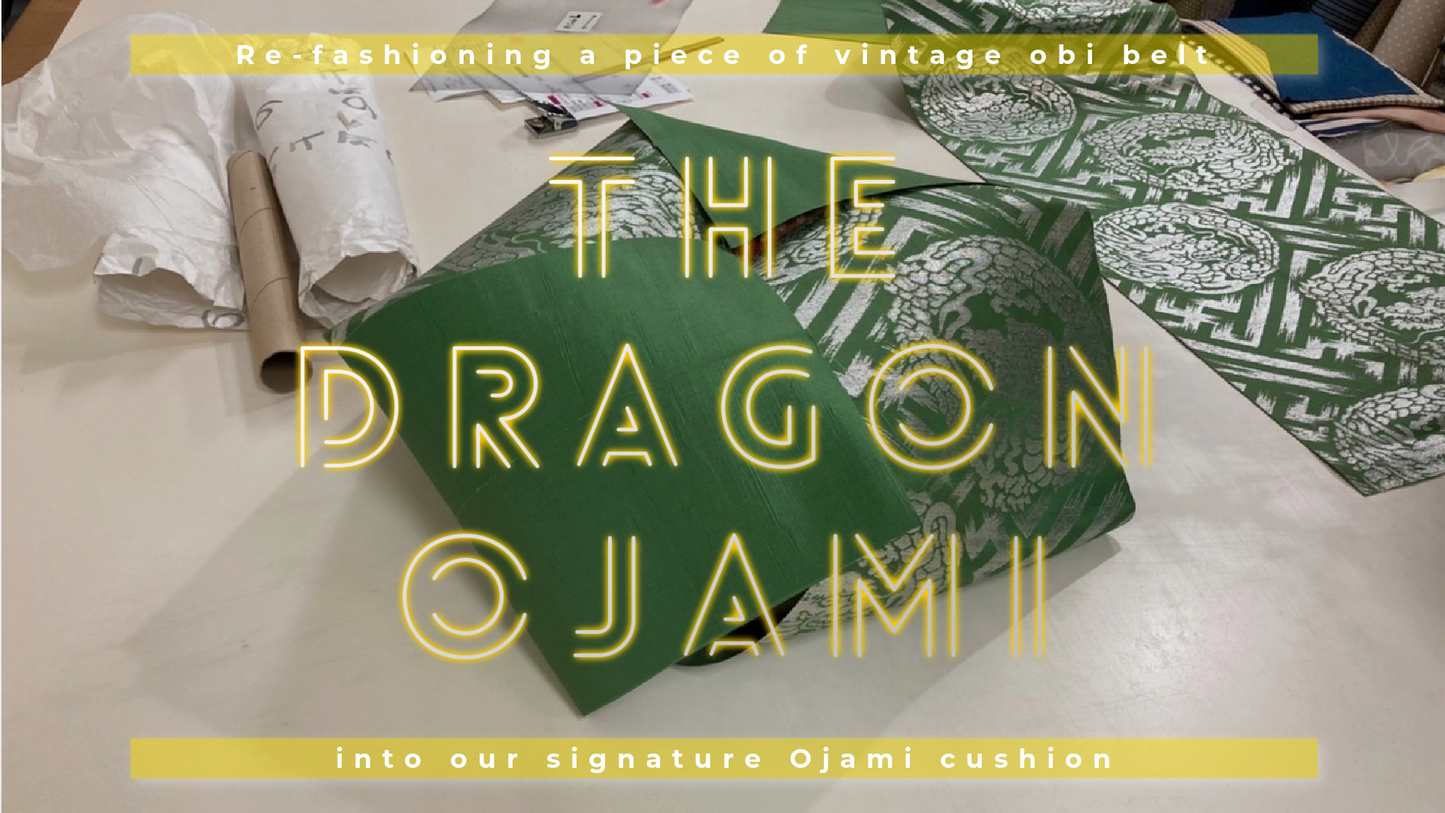 The Dragon Ojami – A Friendship Keepsake & Family Heirloom
A Meaningful Gift for A Dear Friend
"Thank you for being there and looking out for Mariko while she is pursuing her studies in the US, my family and I are forever grateful to you."
That is what Kenichi said to Jane, his dear American friend of more than a decade, as he placed a beautifully wrapped package in her hands and urged her to open it up in front of him and his siblings, after dinner. As Jane gingerly unwrapped the gift in front of her Japanese friend and his family, her eyes lit up when she saw that it was a beautiful green silk brocade obi belt, that has dragon motifs on it.
Kenichi explained that the obi belt belonged to his late mother and that was her favorite one. As Mariko was a beloved granddaughter, daughter, and niece of the family, Kenichi and his family wanted a meaningful gift to honor Jane's friendship as well as to show gratitude for caring for Mariko, hence their mother's favorite obi belt. Coincidentally, Jane was also born in the year of the dragon so receiving this obi belt was extremely special to her.
When Jane returned to the US, she stored the obi belt in her Japanese tansu chest, hoping that one day, she will be able to put this precious gift to good use.

A Stroke of Genius
Due to Covid travel restrictions, watching NHK World TV was not only Jane's favorite pastime but also a source to help fuel her passion for Japanese culture.
In one of the programs that she was watching, she chanced upon Takaokaya, a crafter of "shikimono" (floor furnishings), e.g. tatami, futon, and zabuton, and decided to google about Takaokaya to learn more.
When she saw the artisanal Kangu (tools of relaxation) that Takaokaya makes, Jane was reminded of the precious gift she received from her late friend Kenichi, 20 years ago. Immediately she had a brilliant idea on how she can finally put that obi belt to good use.
She knew that this idea would keep the memories of a friendship alive and leave behind a legacy for her children in time to come.
Question was, how can she make her idea come to life when travel restrictions are everywhere?


Visiting Takaokaya Finally
When travel restrictions are finally lifted, Jane made plans to travel to Kyoto, Japan, and visit Takaokaya with the dragon obi belt. When she was at the workshop, she told Nanako, a team member from Takaokaya, that she wanted to use the antique obi belt to make an Ojami (octagonal-shaped Japanese cushion that is made exclusively by Takaokaya).
As the obi belt was very old, the fabric was very delicate and can be very challenging to sew while preserving the integrity of the cloth. However, the team at Takaokaya knew the significance of creating this Ojami for Jane and the craftsmen took extra care when crafting this special Ojami.


Jane was due to return the next day to the US so shipping arrangements were made for this Ojami to be delivered to her once it is completed.


Seeing the Dragon Ojami for the First Time
"I waited until my husband was at home with me to open the package.  To be perfectly honest, I had no idea what to expect. When we opened the package, I was astounded to see that something so beautiful had been made even more beautiful. The silver patterned sections had been meticulously combined with the solid green silk sections. The juxtaposition was artistically perfect!" said Jane when interviewed by the Takaokaya team about how she felt about seeing her dragon Ojami.


Want A Unique Kangu to Tell Your Story?
Co-create a special kangu from Takaokaya to celebrate friendship, kinship or milestones in life. The team at Takaokaya looks forward to hearing from you about customizing your unique kangu that tells your story.
Contact us today and let us know how we can co-create together.