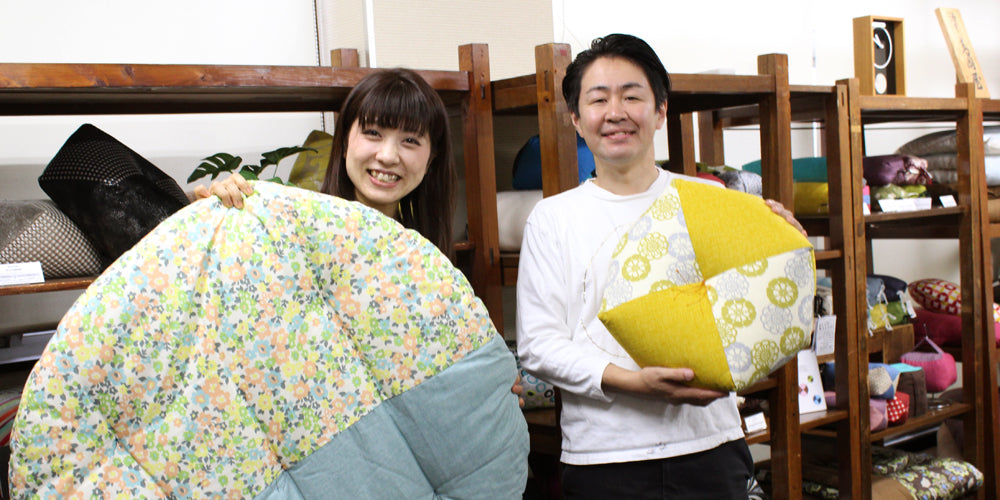 Come and Visit Takaokaya Showroom in Kyoto
Come and Visit Takaokaya Showroom in Kyoto!

When you come to Kyoto, please visit Takaokaya showroom
as well. We have a showroom that you can see all our hand-
made products at 2nd floor at Takaoka head office. Not only
standard collection but also limited collection which you can
see only this showroom is available here. With looking, touch-
ing, trying and sometime relaxing, you can select our products.
You can purchase our products on site and bring them back by yourself. It is also possible to arrange the shipping for both domestic and overseas. Please do not hesitate to ask us.

Let's place order for your relaxing product!

At our showroom, you can place your orders for your original Kutsurogi relaxing items. Please check the colors and texture of fabrics, and select what you like, then place orders. If you have
any requests to change the size and so on, please let us know.
We are happy to discuss. 

We are looking forward to seeing you in Kyoto!

Next to our showroom, we have our workshop. Please come and
see our handmaking processes by craftmen and women. We are
happy if you can find your favorite relaxing items with seeing
our craftmanship. We at Takaokaya will help you to find your
"Kutsurogi Relaxation" together.

 
TAKAOKAYA

[Address] 242 Kintoyoko-cho, Shimogyo-ku, Kyoto,
600-8331, JAPAN
[Tel] +81-75-341-2251 / [Fax] +81-75-341-2255
[E-mail] intl@takaoka-kyoto.jp
[Open Hours] 09:30am - 05:30pm
*Weekdays and some Saturdays.
[How to Visit]
◆Subway: A 7-minutes walk from exit 2 (North-West) at Gojo Station on the Karasuma subway line.
◆Bus: A short walk from Horikawa Gojo bus stop.
Kyoto City Buses #9, 28, 43, 73, 75 and 80 all stop here.



We accept all major credit cards.